Wednesday, February 19 2014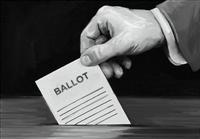 Political ads are once again bombarding the air waves and pretty soon all voters will be choosing their favorite candidates, if they haven't already. In fact, some disillusioned folks are debating whether or not to vote at all. Through the years, we've come to know that once the primaries are decided, some will vote straight party ticket, no matter who's running and others will vote for the candidates based on the issues.
Although I exercise my right to vote, when it comes to knowing the candidates well or even understanding the issues, I must confess that my knowledge is quite limited. In fact, I know about as much about politics in general as I do about World Trade. Neither do I know completely the guidelines that are set forth for churches and preachers, but I'm pretty sure we can't publicly endorse any candidate or party. Nevertheless, there are always a few that seem to find ways to show their hand, so to speak, and their choices will always be quite obvious. I've often been questioned, even criticized for my lack of involvement or the voicing of my opinion in the political races but there is a reason for it. Besides my adherence to the guidelines, I am totally convinced that the Lord called me to preach the gospel and watch over His flock, not to get overly involved in other matters. I don't make a more thorough study on the political candidates or the issues, because I am obligated to devote myself more fully to the study of God's Word. My charge is the same one Paul gave to Timothy. It reads:
Study
to shew thyself approved unto God, a workman that needeth not to be ashamed, rightly dividing the word of truth
(2 Timothy 2:15 KJV)
There is a method I employ when I make my choice for the candidates I will vote for. Regardless of their party, record, or the issues they champion, I will vote for those who do the least mud slinging, don't try to portray themselves as being tough, and don't say the things that are popular or those they feel the voters want to hear. To me, character is very important and I believe those who have it will do a good job once they are elected. If you vote, how do you choose your candidates?
Memory verse for the week:

I have fought the good fight.

I have finished the race,

I have kept the faith.

(2 Timothy 4:7)