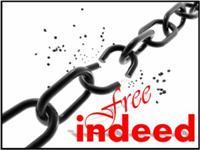 Some who are reading this blog today have had hurtful or even traumatic past experiences that have had lifelong effects. There is a wide range of personal experiences that can produce such damaging results, and unfortunately many of the victims will never completely recover. What makes it even sadder is that the ones who inflicted these wounds were often close friends or family members, those who would have been expected to offer care and protection, not pain and grief. As a result, not only the victims, but also the lives of many people associated with them have been changed forever. Even their personalities have suffered.
If you are wondering why I am speaking in general terms concerning this issue, it is because I am aware that such matters are outside my area of expertise. What I do know is this: In Christ, we can not only be free from any adverse experience of the past, we can be totally free. Referring to Himself, Jesus uttered these words:
If the Son therefore shall make you free, you shall be
free indeed
.
(John 8:36) That means you can be free from any hurt, anger, resentment, bitterness, anxiety, or fear that has lingered around and has tormented your soul for all these years. That means you can come out of the shadows, truly rejoice, and start living once again. We've all heard about the many recovery methods and programs available to those who have been victims, but Christ was setting people completely free from their painful pasts centuries before anybody even thought about any methods or programs.
If you have been a

victim

, and have not been able to shake free from your past, will you exercise your faith and trust God today? And please don't use the old excuse that you just can't trust anybody anymore. It is not a matter of trusting people; it is a matter of trusting God. If you truly trust Him, you will no longer be afraid of being hurt again. You will realize that there are people who genuinely love you. Another thing: Don't be afraid to express your love again to those who have proven to be trustworthy. In fact, let them express it to you too. When you do, you will soon discover the difference from being partially free and completely free. In Christ, you can be free indeed!
Memory verse for the week:

I have fought the good fight.

I have finished the race,

I have kept the faith.

(2 Timothy 4:7)