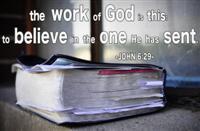 Jesus was asked this question that typifies a general mindset which seems difficult for all of us to shake:
What shall we do , that we might work the works of God?
(John 6:28) Even after we've known and walked with Christ for many years, the idea that there are still some things we have to do in order to please Him, or even gain Heaven, remains. Jesus gave His inquirers the answer with just a few words and it applies to all of us as well. He said:
This is the work of God, that ye believe on him whom he hath sent.
(John 6:29) How simpler can that be? Do you want to please God and win Heaven? Believe in Jesus, period! That's it!
That should settle the issue, right? Unfortunately, many will still not be convinced, just as these petitioners were not. You see, as soon as He told them they needed to believe in Him, they immediately asked Him to show them some kind of sign. They had just seen Him miraculously feed a multitude with just five pieces of bread and two small fish, and they still didn't believe. Those who truly believe in Christ have no need for further signs.
Heaven is not gained by works, but by believing. In fact, even after having gained Heaven, the best way to keep pleasing God is by continuing to believe in Him. We must never forget the truth of Hebrews 11:6, that without faith it is impossible to please Him. Those who know and belong to Jesus never worry if they are doing enough to please Him, or even merit Heaven. In fact, when you really love someone, you look for ways to please him or her. That is the nature of true love. In 2 Timothy 2:4, Paul implied that a soldier's principal aim is to please the One who has called him to be a soldier.
So my dear fellow believer, relax. There is absolutely nothing you can do to have Christ love you more than He loves you already. However, if you are going to do anything to please Him, do it because you love Him, and do it because you want to. Now, how difficult a task can it be to look for ways to please the One whom you love the most anyway?
Memory verse for the week:

In him we were also chosen, having been predestined according to the plan of him who works out everything in conformity with the purpose of his will