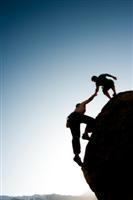 I did not plan it this way, and I may be off target, but today I felt led to expand on the situation involving the "chosen few", especially those who are still in the midst of their trial. I was reading in the book of Hebrews and I came across these two verses:
Wherefore lift up the hands which hang down , and the feeble knees; And make straight paths for your feet, lest that which is lame be turned out of the way ; but let it rather be healed.
(Hebrews 12:12-13) I ended yesterday's blog by saying that the only thing we should do for those going through a difficult experience is to pray for them. I was wrong! After reading the verses I just shared with you, there is something else that may be equally important. Here, we saw the importance of encouraging those who have been emotionally or spiritually battered, to do what we can to lift them up so that they will not despair and stray even further.
I suspect that some of you who are reading this blog can either point back to a time when someone's encouraging words got you back on the right track, or else the lack of them drove you further down. As a pastor, I have heard both sides of this issue. I have heard the heartwarming accounts of those who experienced breakthroughs in their lives because of someone's encouragement, and I have heard the heartbreaking stories of those who have not. I know many people who have never heard an "I love you" or a word of praise from anyone, not even their parents or close family members. In his letters to the Ephesians and Colossians, Paul advised fathers not to provoke their children to wrath, but to nurture them in the Lord, because if they did not, they would become discouraged. (See Ephesians 6:4 and Colossians

3:21

) This applies to adults as well. When folks are sailing through rough waters, they are at their lowest point. The last thing they need is for someone to provoke them or tell them they're getting what they deserved, like Job's so-called friends. I'll repeat the point I made in an earlier blog: Not everyone experiences hardships because of sin or God's punishment, but even if they do, they need to be restored, and words of comfort, assurance, and encouragement will work wonders for them. Pray for those who are in the midst of a life storm, and if you can, offer them some encouraging words. That will please God.
Memory verse for the week:

In him we were also chosen, having been predestined according to the plan of him who works out everything in conformity with the purpose of his will