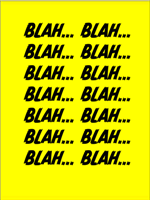 While instructing a jury, a judge added this advice. "Whenever any person involved in the trial is asked a question and he or she claims they don't remember, don't assume they can't be trusted. Sometimes you just forget. For example, I thought I had my gold watch with me this morning, then I remembered I left it on the little table next to my bed." When the judge got home that evening, his wife told him, "You sure are vain. Why did you have to send someone just to get your gold watch for you? You even told him where it was."
That funny story reminded me of a very popular silly song during the early 60's by a guy named Frankie Ford. The name of the song was "You Talk Too Much." It is about a girl that has loose lips and causes her boyfriend a lot of grief because of it. I suppose you can still find it on You Tube. Anyway, it seems like the judge in our story was stung because he also talked too much. Two verses come to mind regarding this matter. Proverbs 10:19 says:

When words are many, sin is not absent, but he who holds his tongue is wise.

If we are honest, I think we'll all admit that the more we speak, the greater our chances are of putting our foot in our mouth. Colossians 4:6 says:

Let your conversation be always full of grace, seasoned with salt, so that you may know how to answer everyone.

To me,

full of grace

means combining the wisdom that God gives with a little bit of common sense, and

seasoned with salt

speaks of preparation. The simple message is: Think before you speak.
Because we're human, sooner or later we're all going to speak words we wish we could take back. That's not a copout; that's just reality, and I don't mean like the many so-called reality TV programs that have cropped up everywhere. I wonder why they call them that. Anyway, though a slip-up here and there is inevitable, it would serve us well to ever be mindful of the words we speak. Lets pray that they may do good to others and not offend. One more thing: I'm sure you've noticed that often at a restaurant or any other gathering place, there's always one person that hogs up the conversation. Lets not be that person.
Memory verse for the week:

In him we were also chosen, having been predestined according to the plan of him who works out everything in conformity with the purpose of his will