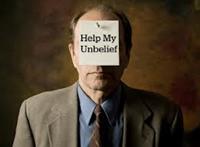 In our church bible class last Wednesday our topic was faith, an absolute life essential. The definition of faith, according to the New International Version of the Bible, (NIV) is found in Hebrews 11:1, and it reads:
Now faith is being sure of what we hope for and certain of what we do not see.
Let me try to expand on that thought. Whether at home or at church, those who lack faith lift their prayer petitions to God very much like most people who play bingo or the lottery; they hope they get lucky and this one will hit. On the other hand, those who have faith have no doubt whatsoever that God is listening to them and will
always
answer at His time and in His manner.
The last part of our verse speaks about believing even when we cannot see it with our physical eyes. We cannot deny that we often get excited at seeing the answer to our prayer right in front of us, but believing even when we can't see it is an indication that we have the kind of faith that pleases God. A case in point was Thomas, Jesus' disciple. He had doubted the report of his fellow disciples and others that Jesus had risen from the dead, but when he saw Him with his own eyes and felt His wounds, he excitedly shouted out "My Lord and my God!" (John 20:28) And of course you all remember Jesus replying
"Because you have seen me, you have believed;
blessed are those who have not seen and yet have believed
."
How does you faith measure up? When your life's journey is ended, will you have earned a good reputation for it like the heroes of the faith, or are you like the father of the demon-tormented boy whose story is found in the 9th Chapter of Mark? In the case of the latter, this poor man told Jesus "If you

can

do anything, take pity on us and help us." When Jesus replied that anything is possible for those who believe, the man honestly responded by saying he believed but needed help with unbelief. Jesus helped him and healed his boy. If you are like this, ask Jesus to help you. He will.
Memory verse for the week: (1 John 5:4)
for everyone born of God overcomes the world. This is the victory that has overcome the world, even our faith