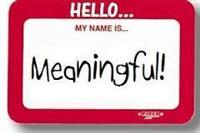 I suspect some of you who are reading this blog today do not really know the meaning of your first name, or else may not know why you were given that name in the first place. I have come to know that a good number of biblical characters were given their name for a specific time, event, or reason. Here are a few examples: Moses =
drawn out of the waters
(his adoptive mother drew him out of a little basket in the Nile) , Isaac =
laughter
(God told Abraham to name him that probably because both he and his wife laughed at the thought of two very senior citizens having a baby boy) Joseph =
may he add
(His mother named him that because she believed God would give her another son afterward. She was right) And the greatest name of all, Jesus =
Savior
(The angel of the Lord told Joseph:
and you shall call His name Jesus,
for He will save His people
from their sins.
(Matthew
1:21
)
Then there are those whose names have been changed. A few examples are: Paul (small) was originally Saul. (asked for) Jesus changed the name of Simon (hearing) to Peter (stone or rock) and a man by the name of Joses (same as Joseph) had his name changed by the Apostles to Barnabas (son of encouragement) If you read Acts 4:36-37, you'll see why. In many cases the name fit the person well and was a good description of him or her.
Some of you have great first names whose meanings are obvious. Here are a few examples: Merry, Grace, Mercy, Destiny, Faith, Melody, Patience, and Joy, just to name a few. If you are one of these fortunate individuals, does your name fit you well? If not, I challenge you to make an effort to live up to your name. After all, the world is surely in need of things such as these. And then there are those like you whose names have no extraordinary meaning. In your case, you were just named that because some family member or friend before you had that name. There is absolutely nothing wrong with that and I trust you don't feel left out. Whatever your first name is, I know that if you live a life that honors God, one that touches those around you in a positive way, by the time you leave this world, many, many people will know your name. They may even say that you made a name for yourself.
Memory verse for the week: (2 Corinthians 5:7)
For we walk by faith, not by sight.