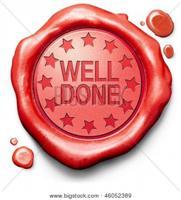 The way we do our jobs or handle our obligations says a lot about how we feel about them. People who don't put all their heart and effort in performing their obligations will often find excuses for their underperformance. Yet, deep down inside they know if they still love what they do or if their love for it is growing cold. Even the simplest minded persons know that. There is one such lady who has come to our church for as long as I can remember. On a certain

Sunday

morning some years ago, I brought in an unfolded bundle of our Church's newsletter and she offered to help me fold them. When she noticed how careful I was in trying to fold them correctly, she asked: "Hey Bro. Joe, I don't have to try to fold them perfectly, do I?" I answered "If you're doing it for me, you don't have to, but if you're doing it for the Lord, you decide." She looked straight into my eyes and replied, "I see what you mean."
Our job or obligations performance also suffers under these circumstances: (1) There are issues clouding our heart and mind. They may be financial, emotional, physical, or even spiritual. (2) We've got too many irons on the fire, so to speak. (3) Some other task, obligation, or even ministry opportunity pops up. If we try to handle both of them, we will eventually be forced to choose one over the other. That happened to me many years back. Given an opportunity to begin a Spanish language radio ministry, I jumped at the chance. Before too long, our programs could be heard in Texas, Mexico, and California and we got some pretty good results from it. After a few years in the radio ministry, however, I was struck with the realization that I was not adequately fulfilling my obligations to my church and it's members. You see, back then I did not have the help or support of three ably equipped and faithful ministers like I do today. When forced to make a decision back then, I chose the church.
If you feel that it is the Lord that has given you your job or even placed you in your present position or situation, then doing it should be a joy to you. Paul wrote:
Whatever you do, work at it with all your heart, as working for the Lord, not for men.
When we've lost the love in any of our obligations or relationships, it won't be too long before others notice it too. If that is happening to you, ask the lord to restore any good thing you may have lost. He will answer because nothing is too hard for Him.
Memory verse for the week: Proverbs

4:23
Above all else, guard your heart, for it is the wellspring of life