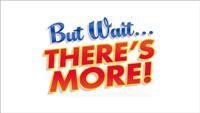 A little boy was very excited when his mom picked him up from Pre K one afternoon because he had learned something new that day. He happily told his mom that now he knew how to count. His mom told him "That's wonderful Timmy; let me hear you count." The little boy slowly counted from one to ten and when he stopped his mom told him to keep on going. The little boy, with a puzzled look on his face replied, "There's more?" And you thought that only some adults you know think they already know it all, right? Seriously, though, it is amazing how much a child can learn in a short time. One example is the 11 year old girl golfer who recently qualified for Ladies' PGA Open. The truth is God has given the human mind the capacity to learn new things, even when the person is old. That is why reading the Word of God daily is so important and beneficial. No matter what our age may be, we can learn new things for our lives daily by reading God's Word. David alluded to that truth when he wrote:
Your commands
(God's Word)
make me wiser than my enemies
, for they are ever with me
. (Ps. 119:98)
Among the things that we have learned since the day Jesus came into our lives is that there is so much more to our lives in Christ than just going to church once a week or having the assurance of Heaven. Having a personal relationship with Christ is a lifestyle, not just an hour of church on Sundays. Just this past weekend, I was reminded of one thing I learned about the calling of God and the ministry He so graciously entrusted me with many years ago. In our early years, we would focus on getting the gospel out into the neighborhood where our church is located by handing out pamphlets and inviting folks to trust Christ as their Savior or just invite them to church. We no longer do it that way. Now, we go into the neighborhood to do things for our neighbors like working on their lawns or passing out electric fans. We have learned that we get better results that way and have also been reminded what a joy it is to do things for others. After all, telling others that we care is not enough, we have to show it. Lets remember that Jesus, though He was God's Son, came to serve. So should we. Yep, there's more!
Memory verse for the week:
The law of the Lord is perfect, converting the soul: The testimony of the Lord is sure,
making wise the simple
.— Psalms 19:7