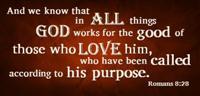 Pastor Solis preached an excellent message in church last Sunday reminding us of an eternal truth which is definitely worth repeating since it is something we seemingly tend to forget. The entire message is found in one single verse, one which is beloved, well known and which many know by heart. Here it is:
And we know
that all things work together for good to them that love God, to them who are the called according to his purpose.
(Romans

8:28

) Note the emphasis on "we know" because it is one truth that many Christians have seen being played out in their own lives, namely, that God has a way of turning around our biggest sorrows, misfortunes, and disappointments into our greatest joys and victories.
Pastor Solis wisely pointed out God's perfect placement of this verse in the chapter (the middle) since it begins with the truth that there is
no condemnation
t

o all who are in Christ, (Verse 1) and it ends reminding us that nothing or no one can separate us from the love of God. (Verses 35-39) Here is the simple application: Those who are in Christ can never be condemned. We can't even condemn ourselves. Neither can we ever be separated from God's love. These truths coincide with our beginning and with our end, so with those two issues regarding our eternal destiny settled, how about everything that is in between? (our life) Bingo! No matter what happens or what we are going or will be going through, everything is going to work out fine, that is, if we love God.
One biblical example of this truth is the story of Joseph in the book of Genesis. He went from being a slave and later a prisoner, to becoming the governor and right hand man of the king of Egypt. Similar fortunes have happened in the lives of people today. Like many of you, I read the story circulating on the internet about a young man by the name of Jeremy Meeks. He was arrested by the Stockton California Police recently and when they posted his mug shot his picture went viral because of his exceptionally good looks. If he turns his life over to Jesus, his misfortune can be the door that leads to a career in movies or as a model. Years from today, he may say, "Who would have thought that the most embarrassing and lowest point in my life would have led to this?" If you are going through rough times today, trust God. Things will be getting better, perhaps sooner than you think.
Memory verse for the week:
The law of the Lord is perfect, converting the soul: The testimony of the Lord is sure,
making wise the simple
.— Psalms 19:7