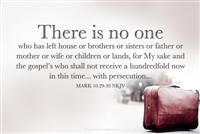 I learned a new word recently while dealing with my auto insurance company. A few months back, a car rear-ended ours and we had to rent a car while ours was in the shop. Since the driver of that vehicle was at fault, his insurance company paid for the repairs to our car. However, being reimbursed for the money I spent for the car rental was not so easy, so I contacted my insurance company and sent them a copy of my charges. They quickly acknowledged receipt of my claim for reimbursement and emailed me that they had turned the information over to their
subrogation
department. I thought of emailing them back ask them what
subrogation
meant but decided instead to look the word up in the dictionary. The meaning was what I suspected. Subrogation is: the assumption by a third party (as a second creditor or an insurance company) of another's legal right to collect a debt or damages. That meant that my insurance company was going to try to collect from the other driver's insurance company the money that I lost because of the rental. Up to now, we have not received our reimbursement although our insurance company says it is forthcoming. I am confident that we will recover what we lost and when we do, I will be very grateful that there is such a thing as
subrogation
.
When it comes to having someone recover what we have lost in life, however, there is no one better than the Lord Himself. Simon Peter, upon seeing a rich young ruler reject the invitation to follow Him, heard Jesus declare that it is extremely difficult for rich people to enter the Kingdom of God. Upon hearing those words Peter was quick to tell Jesus that he and his fellow disciples had left everything to follow Him. Jesus replied in part: "
I tell you the truth, no one who has left home or brothers or sisters or mother or father or children or fields for me and the gospel will fail to receive a hundred times as much in this present age, and in the age to come, eternal life."
(Mark 10:29-30) Jesus, while acknowledging His disciples' losses, promised them that they would receive so much more in return in this life, and especially in the next. On another occasion, Jesus told His disciples not to be afraid, that the very hairs of their head are numbered. (See Luke 12:7)
As we get older, whether our it is our vim, vitality, strength, usefulness, loved ones, and yes, even the hairs on our head, we slowly lose many precious things in this life. Nevertheless, the Lord knows where they are and will return them to us one day, especially our departed loved ones. Keep Jesus' words in mind: Don't be afraid. Our losses here in this life are only temporary. I get excited at the thought; I trust you do too.
Memory verse for the week: (Isaiah 55:6)
"Seek the Lord while He may be found; call on Him while He is near."