Thursday, September 04 2014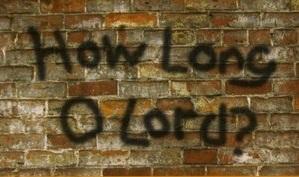 Thursday, September 4, 2014
Everywhere we turn and each new day, we see and hear of the violence, cruelties, and injustices being carried out all over the world, sometimes even under our noses. Like many of you, I started to think more about these things a couple of days ago upon seeing the news of the beheading of an American citizen by a fanatical extremist group. In His Sermon on the Mount, Jesus characterized God's children as peace makers, yet I bet the blood of many of you boiled when you saw the image of the terrorist who was about to behead one of our citizens and you would have kicked through your TV screen to get to that merciless coward if you could have done it. Let me repeat that these atrocities and injustices occur every day in our country as well. Things like these are difficult to understand and as we try to make sense of it all, many thoughts cross our minds. Here are a few: (1) How much longer will God permit these things to continue? (2) Is He trying to tell us something? (3) Does all this mean that Christ's return is at the doorstep? Can we know His answer today to all these questions?
The truth is that these questions have arisen in the hearts of God's people before. One example is found in the writings of the prophet Habakkuk. Around 600 years before the birth of Christ, he complained to God because of all the violence around him as well as the seemingly unrestrained cruelty of His enemies. Lets take a glimpse at the beginning of his book and see how it so closely resembles the questions many of us would ask God today: [
How long, O LORD, must I call for help, but you do not listen? Or cry out to you, "Violence!" but you do not save? Why do you make me look at injustice? Why do you tolerate wrong? Destruction and violence are before me; there is strife, and conflict abounds.
] Does this not also sound like the many people who have turned their backs on God because, according to them, "If He is God, why does He allow all these evil things to happen?" These things happen because of sin in the hearts of people and because, as free moral agents, God has given us all the right to choose between right and wrong.
To answer all the questions I listed before, the day will come, perhaps very soon, when God will put and end to all these things. Habakkuk was given this answer also. Every human being will one day stand before Him to give an account of his or her life. As far as God's children are concerned, their forgiveness and salvation are secure. Only their works will be determined, not their eternal destiny. Not so with all who rejected Christ. And yes, God is trying to tell us something, and it includes that the end is so near that it is the time to get closer to Him than ever. The knowledge of this, if you love the Lord, should excite you, not scare you.
Memory verse for the week: (Psalm 30:5 NLT) "
His anger lasts for a moment, but his favor lasts a lifetime! Weeping may go on all night, but joy comes with the morning."