Thursday, September 25 2014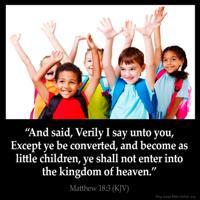 Thursday, September 25, 2014
I'd like to share with you a delightful experience I had yesterday: As I was walking to the mail box yesterday afternoon I saw our new neighbor walking down the street with his little boy. As I greeted him, his little boy, who was wearing a popular football jersey around these parts, started waving at me also. When I told him how nice he looked, he let go of his father's hand, walked quickly toward me, hugged me around my legs and told me "I love you." I had the newspaper in my left hand and he motioned that he wanted it. His dad told him not to grab it because it belonged to me but I gave it to him because we canceled our subscription two weeks ago and they are still sending it to us. In fact, I was about to dispose of it in the blue recycle bin anyway. The boy, who appears to be three or four years old at the most, walked away with it like he had just found a treasure.
The incident reminded me of these words Jesus gave His disciples in Matthew 18:3: "
I tell you the truth, unless you change and become like little children, you will never enter the kingdom of heaven."
If you are familiar with the story, this declaration of Jesus came in response to their question to Him about who was the greatest in the Kingdom of Heaven. The Disciples really had people in mind, like the outstanding servants of God of the past, or perhaps hoping that they themselves were in this elite group. Jesus wanted to quickly dispel their foolish notions and teach them that humility should be a prevalent characteristic of every child of God. Up to this point, they had not yet been convinced of the truths Jesus taught in His Sermon on the Mount. In pointing out what type of character genuine children of God possess, Jesus said that they are, among other things, poor in spirit, tenderhearted, meek, merciful, hungry for righteousness, pure in heart, and ambassadors of peace. The world may not see it that way but as far as God is concerned, greatness begins with childlike humility.
I thought of these traits yesterday in my brief encounter with this precious little boy. Unlike so many adults we all know, he found it very easy to say "I love you" to an old timer he yet doesn't know. Was it because I remarked how nice he looked, or was it that he has not yet
learned
to be wary of others or to be prejudiced, as so many people in the world have? Don't you wish there were more people like this child in the world, who have no difficulty loving others and expressing it with words and action? Remember Jesus' words, that we have to be meek, loving, and humble as children generally are? Just as this little boy brightened my day yesterday, I pray we may follow his example and do the same. Look around; there just may be someone close by who could really use a hug today and hear you say the magic words, "I love you." After all, you are a child of God, right? Well, that's what God's children do.
Memory Verse for the week: (Proverbs 16:2)
"All a man's ways seem innocent to him,
but motives are weighed by the Lord
."