Wednesday, October 01 2014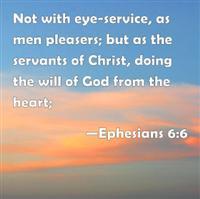 Wednesday, October 1, 2014
People who possess extensive vocabularies, that is, who know and use words ordinary folks like you and me have never heard of, fascinate me. I suppose a good number of them use them simply to impress others, but, whether they do or not, they still win my admiration. In fact, I love learning new words and when I hear someone use them, I mark them and look up their meaning later. There are many dictionary words which are self-explanatory and even when you hear them for the first time you have a pretty good idea of their meaning. Such is the case with the word "eyeservice" which appears twice in the King James Version of the Bible. Incidentally, the word does not appear in all modern dictionaries. The word was attributed twice to the Apostle Paul by the bible translators, once in his epistle to the Ephesians (6:6) and once to the Colossians. (

3:22

) Paul used it to admonish servants never to do work for their masters with "eyeservice" only. A more modern translation of the bible (NIV) says it this way: "
Obey them not only to win their favor
when their eye is on you
, but like slaves of Christ, doing the will of God from your heart."
(Eph. 6:6)
All of that information may be gibberish to many of you so I hope I didn't bore you with it. Nevertheless, I thought it was important just in case you may have come across the two bible verses where the word "eyeservice" was used. More importantly, I hope you will take this biblical counsel to heart. Of course, slaves and masters are a thing of the past in most parts of the world, but the truth is that many of us today work for somebody, and all of us have "Someone" to answer to on a daily basis. That being the case, this advice is for us too. Paul's recommendation in these verses reminds us to always do our work sincerely and wholeheartedly, not only when human eyes are upon us. It is reasonable and very human to put forth our best effort when our family or friends come to watch us perform because we want to make them proud, but do we "perform" with the same enthusiasm when nobody is watching us?
This saying was attributed to a man by the name of J.C. Watts: "Character is doing the right thing when nobody's looking." Someone else has said: "When you are all alone, that's when the real "you" emerges." One of my favorites is: "Your life may be the only "Bible" some people will ever read." Many Christians take this advice to heart and, as a consequence, pattern their lives accordingly. These are they who do the "little things", mostly in the background, that are generally unnoticed or just plain taken for granted by others. These are they who do the "little chores" others will not. These are they that believe that service to others is service to God. Are you like that? Do you do the little things that go unnoticed by others? Finally, these are they who have found one of life's secret treasures, namely the joy of doing things for others. I trust you will be inspired to join them.
Memory verse for the week: (Psalm 9:9)
The Lord is a refuge for the oppressed, a stronghold in times of trouble.