Thursday, October 16 2014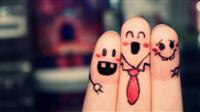 Thursday, October 16, 2014
True friends are among the greatest treasures God has given us. I bet as soon as some of you read this opening line, you immediately thought of a special friend in your life. Sometimes, a best friend can be a spouse, parent, child, or a family member, but whether they are or not, our lives without them would not be as meaningful. My heart really goes out to people who seem to go through life with no friends at all. One of you recently told me about going to a funeral once where you were the third person present. Even some close family members did not attend. Of course we do not know the specifics, but it makes you wonder anyway, right? Similar thoughts came to me one day when I was stopped in traffic for a funeral procession. Other than the hearse, there was only one car behind it. Could it be that the deceased in these funerals had no friends. Whatever the circumstances, it was a heartbreaking scene for me.
I heard this quote about true friends once and it made a deep impression on me: "Many people will walk in and out of your life, but only true friends will leave footprints in your heart." "It is a human tendency to forget to be thankful or to take our blessings for granted, but the real friends in our lives are too valuable for us to ever forget them. I suppose that with the passing of time, most of us have learned who our true friends really are. King David wrote about that happening to him too in Psalm 41 where he said: "
Even my close friend, whom I trusted, he who shared my bread, has lifted up his heel against me."
Young people, and sometimes even adults, get the impression that everyone they hang around with on a regular basis are their true friends, especially because of the many laughs and good times they share together. Later, reality sinks when a crisis, financial bind, illness, emergency hospitalization, or a time of grief and sorrow arises, and their so-called friends are nowhere to be found. Who shows up at such times? It is the family members or loved ones they shunned when they were spending most of their time with their new "friends." These were the true friends all along, as someone once said, "A friend is one who comes in when the whole world has gone out." Proverbs

17:17

says that "a friend loves at all times", not only when the weather is fair.
If you have real friends in your life, thank God for them for you are blessed indeed. Keep in mind, however, that there are people in your life that don't have them and would really be happy if one or two came their way. To be honest, many who are friendless are in that state because they are not easy to love, but here's where the love and grace of God comes in. If the Lord has laid it in your heart, reach out and be a friend to someone like that. Remember that we're not always easy to love either, but God always loves us and we have real friends nonetheless. If you befriend someone who's hard to love, you will soon find that your life became richer all of a sudden.
Memory verse for the week: (Matthew

11:25

) "
At that time Jesus said, "I praise you, Father, Lord of heaven and earth, because you have hidden these things from the wise and learned, and revealed them to little children."