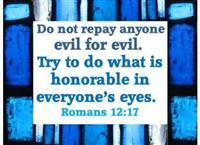 A man I know once told me excitedly that the Lord had really blessed him the day before. When I asked him in what way, he said he had found a wallet in the street which had quite a bit of money in it. When I asked him if there was any form of ID on it, he said yes but that he discarded the wallet after he took the money. When I asked why he did not call or at least report it, he insisted that he had been asking the Lord for some financial help and that was God's answer to him. When I asked how he would have liked it if he had lost his own wallet and the one who found it would have done the same thing he did, he replied: "Well, that's what I would have deserved for being dumb and careless." Can you see what game my friend was playing? It is called self-justification, a game that actually started in the Garden of Eden. When the Lord came looking for Adam after he and his wife partook of the forbidden fruit, his reply was, "It was the woman you gave me." Basically, Adam was blaming God for his sin. That was exactly what my friend was doing, claiming that it was actually the fault of the man who lost the wallet. In his case, he just happened to be at the right place and the right time.
Aaron, Moses' brother did the same after he manufactured a calf-shaped idol of gold to appease the people at the time when Moses was up on the mountain receiving the Ten Commandments from God. When pressed later by Moses about it, he blamed the people by saying it was their idea, not his. To make matters worse, he added,"
Then they gave me the gold, and I threw it into the fire, and out came this calf!"
(Exodus32:24) How ridiculous was that? King Saul did it to on the day he took it upon himself to offer a sacrifice, a function that was only permitted of priests. When Samuel asked him why, he said it was because he took too long in coming. In other words, he placed the blame on Samuel. (See 1 Sam.13:7-12)
When we justify ourselves for doing wrong, we generally shift the blame to someone or something else. The truth is that it is never right for anyone to do wrong, we don't even have the right to retaliate in kind. Paul wrote in Romans

12:17

, "
Do not repay anyone evil for evil. Be careful to do what is right in the eyes of everybody."
As I am writing this article, I just heard in the news of a car who plowed into a local cemetery destroying about 20 headstones. The driver, who is believed to have been racing with another car, was hurt in the crash and had to be transported to the hospital. His passenger? He ran off! Without a doubt, it is a human inclination to try to cover up our wrongs. However, God expects His children to be honest for their own good. Lets ask Him to help us to face up to our errors and be more accountable.
Memory verse for the week: (Psalm 51:6 NLT)
"But you desire honesty from the heart, so you can teach me to be wise in my inmost being."