Wednesday, November 05 2014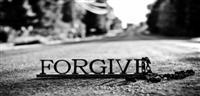 Wednesday, November 5, 2014
Two men walking through a countryside came upon a woman at a river's edge who was upset because she could not cross over. When one of them offered to help her across and she joyfully accepted, the other man felt obligated, so he helped carry her too. Once across, they put her down and all went their own way. After a while, the man who had not originally volunteered started to complain about the silly woman and said his back was killing him because of her. He kept on complaining and finally sat down refusing to go on. He asked his friend why his back was not bothering him. He replied: "Its simple. I let the lady down as soon as we crossed the river. You're still carrying her."
Holding a grudge is like that. If we don't let it go, it will in time become too heavy to bear, keeping us from really moving forward with our own lives. I know I've said it often but it is something worth repeating: Anger, bitterness, and resentment in the heart harms the one carrying the grudge much more than the person to whom it is directed. Jesus did not declare in His Sermon on the Mount,
"But if you forgive not men their trespasses, neither will your Father forgive your trespasses"
merely because He wanted to scare us into submission. He knew how much damage we can suffer when we don't forgive. To forgive means to pardon. It is as though we have imprisoned the person who did us wrong. We don't have that right, and that's the other side of the story.
There are millions of people everywhere who yearn for the day when a certain someone will forgive them. It reminds me of a story I heard once about a man and his son who had a falling out after a very hurtful argument. The son ran away from home and after a long time, when the father could no longer cope with his remorse, he set out looking for his son, searching for months without any success. In his last desperate effort, he bought a full-page ad in the Madrid newspaper. The ad read: "Dear Paco, please meet me at front of this newspaper office at noon on Saturday. All is forgiven. I love you, your father." That Saturday, many, many Pacos showed up, looking for forgiveness from their fathers. Is there a Paco in your life that you need to forgive? If there is I hope you let him go free, because you will be freeing yourself in the process.
Memory verse for the week: (1 Corinthians

15:58

) "
Therefore, my beloved brethren, be ye stedfast, unmoveable, always abounding in the work of the Lord, forasmuch as ye know that your labour is not in vain in the Lord."