Wednesday, November 12 2014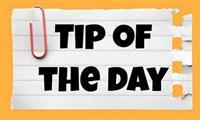 Wednesday, November 12, 2014
I was reading with interest a recent internet article about the best and worst celebrity tippers. Although my wife and I do not go to the movies all that much, I would like to think that I won't be influenced by these reports regarding cheapskate celebrity tippers. Still, because of human nature, I may subconsciously hesitate going to any movie in the future in which they appear. I personally know some people who will absolutely not go see a movie in which a certain actor who has acquired a bad reputation will be featured.
Speaking of reputations, the way in which we tip at restaurants, or at any other place where a service is provided, has a bearing on our testimonies and will either speak well of us or else portray us in a very bad light. Those who tip very little or not at all because of the lousy service they receive, may feel that they are making a statement the server or the restaurant will understand, fail to realize that perhaps the only statement they are making is that they are tightwads. For as long as I can remember, it was very common to see someone leave a dollar or two at a restaurant table after a meal, but that was long ago. A dollar or two may have been okay twenty years ago, but not today if your tab is over ten dollars. It is generally agreed that a reasonable expected tip for a food server is between 15 and 20 percent of the price of the meal. To me however, as a child of God, it is like comparing law and grace. Under the law, regarding giving to God, 10 percent was
commanded
. If you agree that grace is superior to the old law, should not those of us who are living under God's grace go above and beyond the 10 percent required by the old law? Jesus, in His sermon on the mount, declared:
"And whosoever shall compel you to go a mile,
go with him two
."
(Mt.

5:41

) If we, as God's people, are the type that go above and beyond, and if the standard tip is 15 percent, what does that tell us?
Proverbs

11:25

gives us this promise:
"
A generous man will prosper
; he who refreshes others will himself be refreshed."
How many times have we heard professional athletes offer the lame excuse that they are not paid to be role models? Can God's children take the same road? Are we not like the city on a hill Jesus spoke of in His Sermon on the Mount? Did Jesus not also say that we should let our lights shine before men? If we can't give above and beyond, let us at least give what is reasonable. When living your life, please do not forget that others are watching and that wherever you go, you are representing your family, your race, your city and state, your church, your pastor, and more importantly, you are representing Christ. Please don't make Him look bad. Are you letting your light shine before others?
Memory verse for the week: (John

12:26

) "
If any man serve me, let him follow me; and where I am, there shall also my servant be: if any man serve me, him will my Father honour."