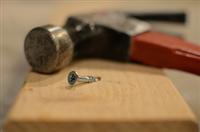 Have you ever wanted to tackle a certain chore around the house and then you are stopped in your tracks because you don't have the specific tool for the job? It can be frustrating, right? That happens to me more often than most because, other than the basic, I don't have too many tools to begin with. If I had a wide array of specialized tools around, I probably wouldn't know what to do with them anyway. My excuse? Its not my calling. If you are like me in that regard, and I hope you are not, you may often find yourself trying to perform a certain task with a tool other than the one you really need. C'mon now, how often have you tried turning a screw with a dime or hammering a nail with a hairbrush? It will seldom do the job. Speaking about hammering a nail with a hair brush reminded me of the lady who tried hanging a picture on her wall doing the same. Her husband who was nearby, noticed her futile attempt and barked out at her, "You can't drive that nail with your hairbrush; use your head." Of course, he really meant that she should think of getting a hammer instead.
That right-tool situation is the same when it concerns serving God as well, whether in church or in life. In church, for example, you wouldn't generally expect the pastor to lead the choir or the praise team, and you would not expect a praise team member to preach the Sunday sermon. In life, you would not seek your neighborhood butcher for financial planning, or go to your primary doctor to fix your car. The Bible says in 1 Corinthians Chapter 12, that the body of Christ (His church) is made up of many members, just like our physical bodies. From our head to our toes, there are many, many parts, each has a specific task, and every one of them is dependant on the other. For example, our hands and feet would unable to function properly, if we did not have use of our eyes and our brain. Just like he perfectly arranged our body, the Lord has perfectly arranged the body of Christ placing each part in the place where it belongs. Verse 18 says: "
But in fact God has arranged the parts in the body, every one of them, just as he wanted them to be."
Here is where problems in life or in the church arise: Some members of the body want to be something other than what God made them. If God made you a finger, for example, you should not try to be the toe. In fact, this is a picture of today's world in general; there are millions of people all around us that are trying to be what God never intended them to be. If God made mistakes, would He be God? In order for the church to function effectively, every member has to be in the place where God has placed it. If you relied on me to do some handyman's work around your house, you would be in for a very rude awakening because that is neither my place nor my calling. There will be times when even the smallest part will come to the rescue of the entire body. Some may be more prominent and may even appear to be more important than others, yet every part is necessary and without it the body would be incomplete. Be happy with who you are and where God has placed you. No member of the body is unimportant or unnecessary. Regardless of who you are, the rest of the body needs you and would suffer dramatically if you were not around.
Memory verse for the week: (1 Corinthians

12:27

) "Now you are the body of Christ, and each one of you is a part of it."