Wednesday, December 10 2014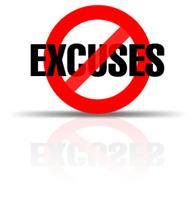 Wednesday, December 10, 2014
I managed to see bits and pieces of this past Sunday night's football game and noticed a few occasions where the cameras were focused on the expletive-filled tirades of one of the quarterbacks in the game. Since it was televised nationally and the only football game at the time, quite naturally, there was much internet discussion about the matter the following day. As you can well imagine, considering today's social climate, opinions seemed to be evenly divided. Those who sided with the quarterback or claimed it was no big deal, alluded to, among other things, such things as, (1) It's a big boy's game, and boys will be boys, (2) in the heat of the battle, this type of reaction is expected, and (3) this is the best way to motivate your teammates. It did not surprise me at all, that many would side with said quarterback and reminded me of a similar occurrence many years ago in the post office.
I have told you often that the way people live their lives is a reflection of everyone or anything they are related to or associated with. Well, thinking of that fact, I brought to the attention of our station manager one day, the continual practice of a certain mail carrier who seemed to delight in loudly filling the air with his four-letter word rants. I never pretended, and I still don't, that I had delicate or lily white virgin ears, and I did not seek the manager's intervention in this matter for me, but rather for our entire unit. You see, this carrier's work station was directly behind the panel that separated the work force from the customer lobby and any customer could clearly hear what was going on right behind the window clerks. My argument to our manager was that this one carrier was not only making our workforce look like a ragtag unit, it was a smear to the entire postal service, him included. His reaction was very similar to the position taken by all the folks who sided with Sunday night's quarterback. Then I remembered, that this one manager had a reputation himself of being loud and profane. As I left him that day, I thought to myself, "What did you expect?"
Here is the bottom line: There can
never
be an excuse for bad conduct! The practice of trying to justify our evil actions is as old as the Garden of Eden when Adam told the Lord,
"
The woman that you gave me
, she gave me of the tree, and I did eat."
(Gen.

3:12

) When we do wrong, we're not going to convince God that we were justified in doing what we did. Why look around, then, to see if we can find some thing or someone else to blame? That's what our quarterback did; he blamed the network for focusing more on his behavior than on his play. That's it; it was the network's fault. Could you not also see that Adam tried to put the blame on God when he messed up? I'm not judging nor condemning this football player, who will most likely be inducted into the Hall of Fame when his career is over, for we are all capable of doing some pretty nasty things. I just want to remind us all that we, as God's children, are constantly being scrutinized. Let's be careful, and should we sin against God, lets be quick to admit it and confess it. There is no better reaction to bad behavior than that.
Memory verse for the week: (1 Corinthians

12:27

)
"Now you are the body of Christ, and each one of you is a part of it."