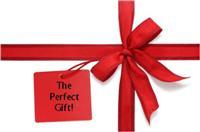 Monday, December 15, 2014
Although, like many of you, I love giving or doing things for others, trying to find the right Christmas gifts for friends and loved ones makes me quite uneasy, to say the least. Perhaps, its just a guy thing but if it were up to me, everyone on my list would just get a gift card. I can almost hear some of you say "No, you can't do that; its too cold and impersonal" and although I may grudgingly agree, my response would be that I would be very happy if I received nothing but gift cards, especially the restaurant type.
I was reminded of this situation yesterday when I heard Pastor Ruben's message in our first church service yesterday speaking about the "Perfect Gift." In all your Christmases past, do you recall ever getting the perfect gift? I'm pretty sure none of you are thinking about a tie, pajamas, a fruitcake, underwear, or a sweater. Speaking of sweaters, although there seems to be much conversation these days about ugly Christmas sweaters, they sure seem to be popular for we see a lot of people wearing them. Considering the apparent fondness of today's society of faded and torn jeans, it should not be so surprising, then, that many would love wearing these
colorful
sweaters. Yes, to some of you, a certain Christmas gift you once received may stand out from the rest; you may even think that it was perfect for you and I completely understand. Nevertheless "perfect" means different things to different people. To me, it is like the word "awesome." Some people, especially the younger ones, apply the word to just about everything, leading me to conclude that "awesome" to them may be anything that is just nice or cool.
I believe that "perfect", as well as "awesome", can only be correctly ascribed to God Himself, which leads me to declare that the only perfect gift the world has ever known is the One He gave us which is Jesus Christ, His Son. Most people in the world know John

3:16

, but even though it is as clear as a sunny day, many still cannot see it's message that Jesus was God's gift to the world. Therefore, if God gave this gift, it had to have been perfect. With this truth in mind, our church was named, "Saved by Grace." Ephesians 2:8 says:
'For it is by grace that you have been saved, through faith-- and this not from yourselves, it is
the Gift of God
."
Another important truth to know about the nature of this perfect gift is that it was given in love. Even among the gifts we give one another, the best ones are those which are given in love. When someone gives us something out of obligation, pity, respect, or anything other than love, that gift will be far from being perfect. The ones we cherish the most are those we know were given to us because the giver loved us. The best thing of all is that everyone in this life can have this "Perfect Gift." If you have not yet done so, I pray you will ask God to give you this perfect gift today. It will be your greatest Christmas gift ever.
Memory verse for the week: (John

3:16

)
"For God so loved the world, that
He gave His only begotten Son
, that whosoever believeth in Him should, not perish but have everlasting life."