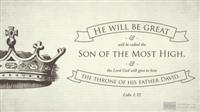 Monday, December 22, 2014
Many years ago, an old country doctor was driving home in the middle of the night after responding to an urgent call from one of his patients. It was a cold and rainy winter's night when he missed a curve and drove his car into a lake. He managed to get out of it before it completely submerged but not before it had drifted into the middle of the lake. Since he had never learned to swim, the old gentleman did his best to stay afloat but sensed he would not survive this ordeal for he realized that his strength would soon fail him or else hypothermia would set in. All of a sudden, the night stillness was interrupted and he heard a splash in the distance. In a few moments, he was being led out toward the bank and eventually to safety. The young man who saved him that night, quickly wrapped him in some blankets, set him down, and in a few minutes built a fire to keep him warm. In the firelight, the young man looked familiar to the doctor and when he gave him his name he soon realized that this was a baby boy he himself had delivered about thirty years prior.
This story also reminds me of the beautiful Christmas song "Mary Did You Know?" that says "this Child that you've delivered will soon deliver you." Many in this life have risen to greatness from humble beginnings, but none can touch the magnitude of Christ's ascension from practically nothing to the highest point possible. From a human standpoint, who could have imagined that a little boy born to a poor and seemingly forsaken young couple in squalor and isolation, would one day rule the world? Even before He was born, the angel Gabriel informed Mary: "
He shall be great, and shall be called the Son of the Highest: and the Lord God shall give unto him the throne of his father David: And he shall reign over the house of Jacob for ever; and of his kingdom there shall be no end."
(Luke 1:32-33)
There are many great and wonderful lessons to learn from the Bible's Christmas story, but I'll just focus on two for today. The first one is that, because of God's grace and mercy, no one is doomed to a meaningless and hopeless life. Samuel's mother, Hanna, said it this way in her prayer of praise to God:
"He raises the poor from the dust and lifts the needy from the ash heap; he seats them with princes and has them inherit a throne of honor."
(1 Samuel 2:8) No matter who you are or how humble your beginnings may have been, please don't think that you can't have a meaningful and productive life, even if you haven't up to this point. Your life is not over and it is not too late to start. Let your life be a gift to God as well as those around you. After all, Christmas is a time of giving. The second lesson, and one which is near and dear to this old coot, is this: This was just a small family of three on that momentous first Christmas, Joseph, Mary, and Jesus, but they were together! Over two thousand years have passed since that first Christmas morning and still, Christmas cannot be Christmas if Christ is not in it, and if the family is not together. Family; to me that's what Christmas is all about.
Memory verse for the week: (Psalm 127:)
"Sons are a heritage from the LORD, children a reward from Him."