Wednesday, December 31 2014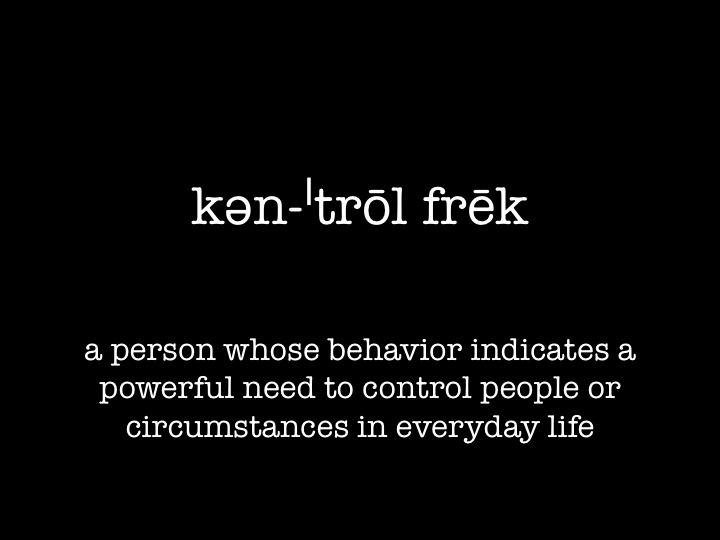 Wednesday, December 31, 2014
I was thinking this morning about certain people I know who are either trapped or else are not completely free because they live with or are constantly around a "control freak." Even though some people who suffer living with control freaks will never admit it, they have lost a lot of their own independence, creativity, and freedom. Simply put, they are not being all they can be because of their constant fear of upsetting or letting down the controlling person in their life.
The term "control freak" first became common in the 60's and some have even gone as far as blaming Frank Sinatra's hit tune of the era, "My Way" for spawning that mindset. In my mind, I have imagined people who heard that tune, say to themselves, "Yes, that's me and I'm going to run my own life as I please." I'm not a psychologist but, to me, a "control freak" and a "perfectionist" are one and the same. The term was originally intended to be derogatory but today many people we know proudly label themselves by these terms, as if it were a good thing. It is not! People who are infected with this mindset can be beneficial and productive to society at times, but for the most part they cause plenty of grief to themselves as well as those around them. And if you think that Christians can't be "perfectionists" or "control freaks", you are greatly mistaken.
Nevertheless, before I completely go off track, the message God placed in my heart this morning was essentially a plea to those who are trapped in some sort of relationship with a control freak. It is time to break free and start being all you can be in Christ. In case you are still denying it, I hope you will open your eyes and face up to the truth. The Pharisees and scribes who constantly opposed Jesus were also in denial. They arrogantly proclaimed that they had never been in bondage to any man after Jesus told them
"And you shall know the truth, and the truth shall make you free."
(John

8:32

) If we are going to submit ourselves completely to anybody, it should be Jesus and no one else. And if you are hesitating because you don't want to upset or let that certain person down, let me remind you that the only One we should never let down is the Lord. This is the perfect time of the year for you to break away from your trap and start enjoying your liberty in Christ. If that is you, and you free yourself today, this coming year may be your best ever.
Memory verse for the week: (1 John

2:28

)
"And now, little children, abide in Him; that, when He shall appear , we may have confidence, and not be ashamed before Him at his coming."