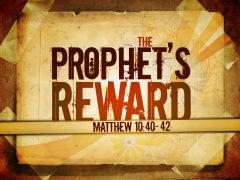 Monday, February 23, 2015
In the 10th Chapter of Matthew, we find the account of Jesus sending forth His disciples to their assigned duty. On that occasion, He clearly instructed them to preach, heal, and cast out demons and to do it free of charge. He also ordered them to take no money with them intimating that He would provide for them nonetheless. He reminded them, just like He does all His true ministers today, that they would meet with much opposition and struggles of many kinds just because of their association with Him but not to be afraid because He would protect and provide for them. Even today, all who serve the Lord are encouraged in their work with these words of Jesus: "
He who receives you receives me, and he who receives me receives the one who sent me. Anyone who receives a prophet because he is a prophet will receive a prophet's reward, and anyone who receives a righteous man because he is a righteous man will receive a righteous man's reward.
And if anyone gives even a cup of cold water to one of these little ones because he is my disciple, I tell you the truth, he will certainly not lose his reward.
"
(verses 40-42)
Jesus referred to His ministers as "little ones" not only because they were precious to Him but also because they were sent out as sheep in the midst of wolves.
Jesus' Disciples, in those days, knew in advance that there would be much more opposition that acceptance. Even so, they also knew that there would always be some who would gladly receive them and treat them as they would Christ Himself. It is not much different today; there are always a few who will honor and do what they can to provide for the Lord's ministers. True servants of God recognize this and when some person helps them or gives them a gift of any kind, they are very grateful to them for remembering them in this way. They also receive the gift as coming from the Lord Himself. Then they quickly ask God to bless and reward the giver being fully aware that He has promised to do that very thing. In today's society, many people fail to honor and respect all those whom God has, for reasons known only to Himself, placed in positions of authority or leadership. They should always keep in mind that, even if they personally dislike or are against what these leaders stand for, they should at least honor the position and admit that it was the Lord who put them there. Thankfully, there are still some today who honor and respect all of God's servants, ministers included.
I encourage you today to do the same. If there are any people in your life that you recognize as genuine servants of God, do whatever you can to make their lives a little bit brighter, to let them know that they are appreciated. When you do, remember also that the promise of Matthew

10:42

is yours as well.
Verse for the week (Mt. 25:40) "
The King will reply, 'I tell you the truth, whatever you did for one of the least of these brothers of mine, you did for me."