Wednesday, February 25 2015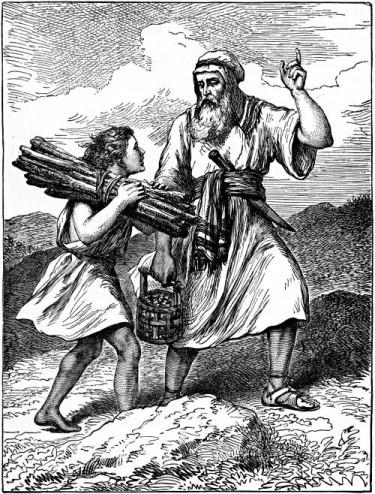 Wednesday, February 25, 2015
Many bible readers find the account in the 22nd Chapter of Genesis regarding Abraham attempting to sacrifice his son Isaac hard to understand. To me it is as simple as God testing and measuring his faith and obedience. However, today I want to draw your attention to two particular verses. God had requested that he go to Mount Moriah to offer up his only son, Isaac, in sacrifice to him and Abraham complied. As they walked together up the mountain, Isaac saw that his father had all that he needed in order to offer up a sacrifice except the animal itself. Assuming it would be a lamb, he asked where it was. Abraham answered:
"My son, God will provide Himself a lamb for a burnt offering."
(vs 8) Obviously, Abraham demonstrated an exceptionally high level of faith and trust in God just in answering his overly trusting and unsuspecting son's question. I'm sure you all remember that right before Abraham was about to plunge the knife into his son's chest, the angel of the Lord stopped him and when he looked up he saw a ram caught in the thicket by his horns, which turned out to be the actual sacrifice. Verse 14 says: "
And Abraham called the name of that place Jehovahjireh: as
it is said
to this day, In the mount of the Lord it shall be seen."
The Hebrew word
Jehovajireh means "the Lord will see." Bible Commentator, Adam Clarke says it simply means that "God will take care that everything shall be done that is necessary for the comfort and support of them who trust in Him." That means you and me! Paul said it this way in Philippians
4:19
: "But my God shall supply all your need according to His riches in glory by Christ Jesus." Many bible readers assume that this promise is confined to material and monetary needs and fail to realize that this includes all our needs, regardless of the type.
Some of you who are reading this blog today are probably not going through something of the magnitude of the dilemma Abraham faced many centuries ago but your situation may be quite difficult nonetheless. From time to time, family or church members have asked about the legitimacy of certain prayer requests thinking perhaps that some of them may be to insignificant to bother God with. I always tell them that if their petition is important to them it is important to God. Whatever your situation; whatever it may be that is troubling and worrying you, never forget that "the Lord will see" to it that your need is provided for. That's a promise. After all, He is faithful, and He is the God who provides. And if you're not convinced yet, you will be soon.
Verse for the week (Mt. 25:40) "
The King will reply, 'I tell you the truth, whatever you did for one of the least of these brothers of mine, you did for me."