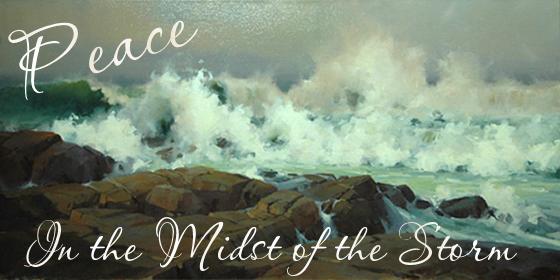 The account of Jesus calming a storm is found in 3 Gospels. In Mark's version, here are some of the story's noteworthy aspects: (1) It was Jesus' decision (vs. 35) that He, along with His Disciples, get on the boat and cross the Sea of Galilee to the other side. He knew in advance that they would encounter a storm. Likewise, He knows today when you and I are going to encounter storms in our lives. The comforting thing to know, however, is that He is with us in our storms just like He was with His Disciples on that occasion. (2) Although the tempest was furious and seemed it would capsize the vessel, Jesus was asleep in the stern in the midst of it. Many times when we are in the midst of our storms, it appears that we are all alone; we are not. Though it may appear that way in our natural way of thinking, we must remember that Jesus promised never to leave or forsake us and that He always keeps His promises.
That was apparently the case with the Disciples because they cried out to Him in a panic,
"Master, don't you care if we drown?"
(vs. 38) I'm sure it was not amusing then but I bet they felt slightly sheepish about it later, especially after they started on their own ministries. I heard yesterday of a dear Christian lady I know who recently asked her doctor if he makes a lot of money. I bet many of us can look back and laugh at something silly we did or said, perhaps something like crying out to God and asking Him if He cared about us, just like the Disciples did on that day. The Lord will never do it but when posed this question, He could respond sarcastically, "No, when I went to the cross to die for your sins, I was only kidding." The third noteworthy feature, and perhaps the most significant was Jesus' calming of the storm. When He got up and the commanded their storm to quiet down and be still, and the tempest obeyed, His Disciples said in awe,
"Who is this? Even the wind and the waves obey Him!"
(vs. 41)
In summary, here are two eternal truths that apply to us and all God's children everywhere: (1) Often, it is His will that we go through a storm or two; He knows the experience will make us stronger. (2) He is never asleep, always has His eyes set on us, and has the power to calm any storm we may be facing. If you are going through a very difficult trial in your life today, I trust you will take comfort in these truths and promises. In closing, here are two things to remember: One, you are not alone and two, storms don't last forever.
Memory verse for the week: (Isaiah 59:1 KJV)
"Behold, the Lord's hand is not shortened, that it cannot save; neither His ear heavy, that it cannot hear."