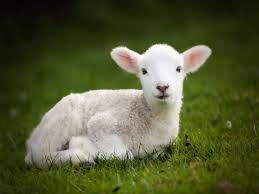 Wednesday, April 15, 2015
One of the best known declarations in the Sermon on the Mount is Matthew 5:5 where Jesus said,
"Blessed are the meek for they shall inherit the earth."
These eight declarations of blessedness at the start of Christ's most famous sermon are called the "beatitudes." There are eight of them and they are found in the 5th Chapter of Matthew from verse 3 to verse 12. Keep in mind that Jesus never used the word "beatitude" ,which signifies "a state of utmost bliss." It was a word many readers of the scriptures of long ago chose to describe these declarations of Jesus in His Sermon on the Mount. Incidentally, the word "beatitudes", just like the word "rapture", is not found in the Bible and many people seem to think that they are called the
beatitudes
because they should be a reflection of our attitude.
"Meekness" is another one of those words which troubles many Christians because our present day culture mistakenly identifies it as
weakness
. If nothing else,
meek
sounds too much like
weak
and
geek
and that certainly doesn't sit well with many folks today. However, if Jesus said that He was
meek and lowly in heart
in Matthew

11:29

, even common sense should tell you that He was definitely not timid nor was there any weakness in His character or person. In fact, His kind of meekness really translated into strength and power. Here is how Proverbs

16:32

describes it:
"He who is slow to anger is better than the mighty, and he who rules his spirit is better than he who conquers a city."
Here's a quick scenario: two men have a disagreement. One of them starts yelling, screaming, and threatening, and the other doesn't say another word. Which of the two is really the strongest? I think you can see that the one many would think was strong, really isn't because he can't control his anger (spirit) while the other who many may consider weak is strong enough to resist the temptation to be stupid. The word "meek" really means "yielded" and it typifies strength under control. Just as a wild, bucking, unbroken bronco is of no use to the cowboy, God cannot use a person with an unyielding spirit.
If we want to be more Christ-like every day, then being meek should be one of our goals. The Apostle Paul was one bible hero who many in his day mistook as being weak and timid. I honestly believe he relished being accused as such and that it is the reason that he wrote:
That is why, for Christ's sake,
I delight in weaknesses
, in insults, in hardships, in persecutions, in difficulties. For when I am weak, then I am strong."
(2 Corinthians

12:10

) Do you want to be strong like Paul; be meek!
Memory verse for the week: (1 Thessalonians

5:18

)
"Give thanks in all circumstances, for this is God's will for you in Christ Jesus."