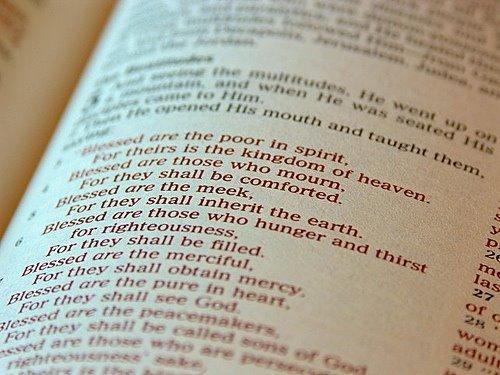 Jesus said at the beginning of His Sermon on the Mount, referred to by many as "the beatitudes": "
Blessed are the poor in spirit: for theirs is the Kingdom of Heaven."
(Matthew 3:3) Like many others, this is one bible verse that many people misunderstand or misapply. The general perception is that "poor in spirit" is a reference to all the poor people in the world, financially speaking, and that God will bless them automatically just for being poor. It does not mean that at all! To be poor in spirit means, among many other things, to be humble, meek, gentle, merciful, submissive, God-fearing, compassionate, and tenderhearted, regardless of one's financial standing in life. Rich people can be poor in spirit and poor people can be arrogant. A person who is poor in spirit is one who really considers others better than himself, who automatically, and perhaps unknowingly, is complying with the advice Paul gave in Philippians 2:3. The verse reads: "
Let nothing be done through strife or vainglory; but in lowliness of mind let each esteem other better than themselves."
It is no wonder that Jesus said that Heaven is for the "poor in spirit", because that is part of the character of a true child of God.
I had the good fortune a few years back to say a few words at the funeral of a genuine child of God. I didn't get to know him as well as I would have liked, but I spent just enough time with him to easily identify that he was "poor in spirit" and happily shared that thought with those in the crowd that day. In spite of the sadness most funerals may produce, all ministers enjoy conducting services for saintly men and women, for it makes their preparation and message so much easier. In fact, on that day I had no need of notes or an outline and knew that I only needed to speak from the heart concerning that dear departed man of God. The Lord places people such as him in the world to remind us all that He still lives in the hearts of men and folks like that draw others to Christ without saying much and just by being themselves, while many ministers of God may need thousands of words just to get the same results. I'm not a namedropper but I suspect some of you who are reading today's blog may think just about now, "Hey, Bro. Joe is speaking about……….."
I sincerely believe that any child of God who purposes in his heart to draw closer to Him on a daily basis, will attain "poor in spirit" status. Meanwhile, if you are blessed, or were at one time, by living with someone like that, I would remind you to be very grateful to God, try to learn as much as you can from it, and if that person is in Heaven already, look excitedly forward to the day that you will see him or her again. It is sad to say but I have known some exceptional men and women of God who left this world without their family and friends ever realizing that they had been very close to true greatness on a daily basis. Not only is it a joy to be around people such as these, it can also be very beneficial. How near or how far are you today to being "poor in spirit" ?
Memory verse for the week: (Proverbs 22:4)
"By humility and the fear of the Lord come riches, honor, and life."