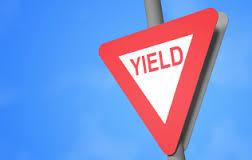 When you come up to an intersection with a "yield" sign, how much attention do you give it? The reason I started today's blog with that question is because through the years it appears to me that "yield" signs don't seem to be very important in the eyes of many motorists. In fact, a few years back I was waiting in the car for my wife who made a quick stop in a strip mall store. I was parked less than twenty feet from a corner stop sign and in the space of ten minutes about 30 cars came up to it and not one of them made a complete stop. Just to prove it could be done, I came up to that same stop sign and made a complete stop. I assume that the person in the car behind us was probably thinking, "What is this idiot doing?" I suspect that many people see "yield" signs the same way many folks see the Ten Commandments; they take them merely as suggestions. I don't know if its just me but "yield" signs are not as common as they once were. Perhaps its because the department of transportation realized that motorists don't really take them into account.
Personally speaking, I wish there were more "yield" signs in life. I know I could really benefit if they lit up before me like a neon sign the next time I was in a two-way conversation. The sign would remind me to "yield" to the other person and keep me from hogging the discussion, something I know I have done often in the past. It would help me at a check-out line, on the highways and byways, or in an open discussion. Generally, yield signs would help me avoid being selfish and self-centered.
The time when "yielding" is most important in life, however, is when it concerns God's Word and leading. Oh that we could yield to the leading of the Holy Spirit in times of temptation. Romans

6:13

KJV says
"Neither yield ye your members
(body)
as instruments of unrighteousness unto sin: but yield yourselves unto God, as those that are alive from the dead, and your members as instruments of righteousness unto God."
In traffic, as well as in life, yielding is a good thing. In Christ, it is not only good, it is absolutely necessary.
Memory verse for the week: (Hebrews

10:25

)
"Let us not give up meeting together,
(going to church)
as some are in the habit of doing, but let us encourage one another--and all the more as you see the Day approaching."