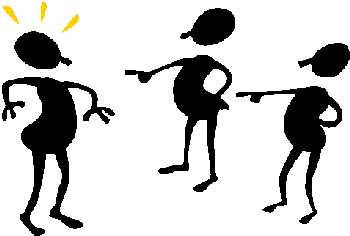 I'll never forget two supervisors I had years ago at our Post Office substation; one was the station manager and the other his lead supervisor. They had the hateful habit of standing side by side at some distance from the rest of the workforce to make snide remarks about any employee whose work did not meet with their approval. Even those employees who were not within earshot could tell that these two were cutting people down whenever they stood side by side. I purposely drew close enough to hear their conversation one day and it went something like this: Station manager: "Look at that guy over there just goofing off." Supervisor: "Idiot!" It was almost like a comedy routine; the bad guy would make a nasty remark and his sidekick would second the motion. I guess I don't have to tell you that this pair was not very popular with the employees. In fact, when the manager took me in to suggest I do my job his way and not mine, he started off by telling me that he was not running a popularity contest. As soon as he said that, and since I knew him when he was just a fellow clerk, I did not hesitate to tell him that his plan was working beautifully because he definitely was not very popular at our office.
The reason I thought about these two men recently was because I caught myself once again thinking about the faults of many people I see on a regular basis; some of which I don't even know. As I lifted up a silent prayer to God to forgive me for being that way, I sensed that "fault finding" ironically is a fault most normal people have. Don't you agree? Don't you think that spotting other people's faults is about as easy as drinking water? Those of you who are chess or checkers players, is it not true that when someone else is playing, you can spot their mistakes more easily than when you yourself are in the game? I think life is like that; it is easier to see other's mistakes than our own.
You don't have to agree with me, and perhaps "fault finding" is not one of your indiscretions. Nevertheless, I don't believe these words of caution and instruction attributed to Jesus are in the bible by coincidence:
"Why do you look at the speck of sawdust in your brother's eye and pay no attention to the plank in your own eye?
(Matthew 7:3) In fact, these very words came to my mind that other day as I was thinking of the hateful habit of my two ex-supervisors. Its as if the Lord was telling me, "So, when you find fault with others, are you not being like them? Do you want to go back and point the finger at someone who used to do what you are doing now?" Hmnn…… I suppose its possible that, besides me, only one or two of you may have this nasty habit. To you I say, "Watch it!" To the rest of you I say, "Pray for us!"
Memory verse for the week: (Luke

6:38

) "
Give, and it will be given to you. A good measure, pressed down, shaken together and running over, will be poured into your lap. For with the measure you use, it will be measured to you."