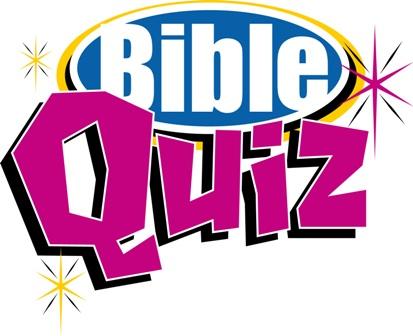 Friday, May 1, 2015 (Posted on May 8, 2015)
Hello Boys and girls, the IRS tax deadline is over but with us, its time once again to slightly tax your brain with this simple bible quiz. Remember that it is perfectly alright to do some research when you're not sure about the right answer. The thing that matters most is that you know the correct answers regardless. I am sincerely interested at how you did so let me know.
Note
: I bet everyone will get the bonus question right and it will tell me a little bit more about you.
1.
Fill the blank: "Thou shalt call His name Jesus for He shall _________ His people from their sins."
A/ Keep B/ Protect C/ Save D/ Defend
2. What guided the Wise Men to the Baby Jesus?
A/ Map B/ Star C/ A Jewish scribe D/ Instinct
3. Who was sold by his brothers to a group of merchants going to Egypt?
A/ Ruben B/ Simeon C/ Levi D/ Joseph
4. After all the animals were safely inside the Ark, who shut the door?
A/ Noah B/ God C/ Noah's wife D/ Noah's oldest son
5. Which is the 3rd book of the Bible?
A/ Leviticus B/ Exodus C/ Deuteronomy D/ Numbers
6. To whom did God say "You shall crawl on your belly and eat dust all the days of your life."
A/ Cain B/ Lamech C/ The Serpent D/ Adam
7. Who lived in Bethany with his two sisters?
A/ Joseph B/ Peter C/ Mark D/ Lazarus
8. After the crucifixion, Jesus' body was laid in the tomb of this man.
A/ Joseph of Arimathea B/ Gamaliel C/ Nicodemus D/ Herod
9. Fill the blank: Jesus prayed, "Father, if it be possible , let this ______ pass from me."
A/ Thorn B/ Storm C/ Cup D/ Ordeal
10. Here's an easy fill in: "For by _______ are ye saved through faith"
A/ Perseverance B/ Mercy C/ Patience D/ Grace
Bonus Question
: Which is your favorite Restaurant?
Answers: 1 C / 2 B / 3 D / 4 B / 5 A / 6 C / 7 D /8 A /9 C /10 D