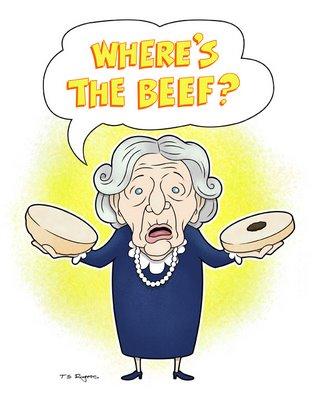 I bet most of you remember the "where's the beef" TV ads featuring the incomparable Clara Peller back in the 80's. They showed her being outraged at the burger place who had just sold her a big-bun burger with a small patty inside and uttering her still famous line. Well, I think of that line from time to time when I hear certain televangelists or teachers give their messages. In a spiritual sense, it has a lot of potatoes but no meat. It's as if you went to your favorite steakhouse and ordered a big juicy steak dinner with all the trimmings and when you get your plate you quickly see a whole bunch of trimmings but a steak so small you can eat it in two chews. God's ministers must do that; they are obligated to feed their listeners the most filling and nutritional spiritual meals they can provide for them. In their case, the meat is the Word of God; anything else they add to it, like life examples, illustrations, stories, etc., represent the trimmings. There should always be plenty of meat in their meal.
I touched on this subject in last Sunday's church bulletin and I would like to share it with you today. Here it is:
[[
Preaching and teaching the Word of God is like playing the violin; to the general population it sounds beautiful no matter who plays it. God's Word is also a powerful weapon. Hebrews

4:12

says that it is
"
powerful, sharper than any two-edged sword, and can penetrate the soul and spirit
"
and because it is powerful, in the hands of the untrained it can inflict a lot of damage. Although it is intended to give life, hope, and many benefits, used in the wrong way and by the wrong people, it will do more harm than good. That is why every sincere preacher or teacher of God's Word should always keep these words in mind:
"
Study to show yourself approved unto God, a workman who does not need to be ashamed and who
correctly handles
the Word of Truth.
"
(2 Tim.

2:15

) Pastors are always grateful to God for their members who pray for their health and well being but next time you pray for your pastor, pray that he will always study God's Word. This way he will best honor God and benefit you also.
]]
Keep this also in mind the next time you hear someone, even your own pastor, preach the word of God, and ask the Lord to help you see past the hype. The "trimmings" are a necessary ingredient and can be delicious on their own. Nevertheless, consider the general message as a whole. How much of the Word of God was in it and was the truth presented supported by other verses and the general message of the Bible? If you did not agree with the main message or something in it didn't sound exactly right, I would advise you do some investigative research on your own. You may even ask others, especially those who are well versed in the Bible what they think about the matter.
Let me repeat that the trimmings, especially if they have nutritional value, add a lot. However, the meat, (the Word of God) especially in the spiritual sense, is where the essential and necessary spiritual nutrition is found.
Trimmings, by themselves, will never really fill you, but a good meal can sustain you for an entire day.
Memory verses for the week: (Psalm 24:3-4)
"Who may ascend the Lord's Holy Hill? Who may stand in His Holy Place? He who has clean hands and a pure heart."