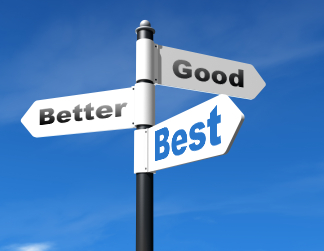 The Sermon on the Mount is a picture of what true believers do and how they live their lives, and the mindset of a genuine child of God is represented in Jesus' words of instruction given in Matthew

5:41

which reads:
"And whosoever shall compel thee to go a mile, go with him two."
On a daily basis, and sometimes several times in a day, we are given the opportunity of doing good, better, or best. On the day when Christ gave this word of instruction, people were compelled by law to carry a Roman soldier's burden for one mile if he asked them to. Jesus was implying that the law required one mile but God's grace called for something higher, and true Christians are not be satisfied with doing 'good" or being average, for they are better than that.
Think about this: Does God give you something just good or average on a daily basis and is He just a good part of your life? I trust you will keep that in mind today when you're doing your daily duties at work or at home, when you go out in public, or when you go out to eat at one of your favorite places and leave your tip. After all, what is Christ to you? I trust you will say He is the best part of your life.

Tonight

, when you think back on how you did today, I hope you can honestly say that you did your best.
Memory Verse for the week: (Psalm 127:3)
"Sons are a heritage from the Lord, children a reward from Him."