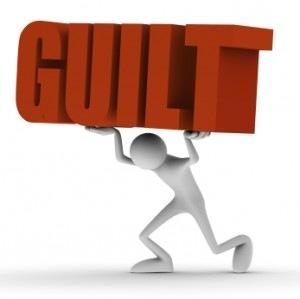 I would have shared this topic with our Spanish Bible Class in church last night if a fast moving rainstorm had not forced us to cancel. The reason I thought of this subject was because I dealt with it momentarily myself this past

Tuesday

night. Someone made me feel guilty about something I did not do and should have, at least in that person's opinion. Therefore, if it happened to me, I sense it is an issue some of you may be dealing with even as you are reading this blog. Our scripture text would have been Matthew 26:75 which reads: [
Then Peter remembered the word Jesus had spoken: " Before the rooster crows, you will disown me three times." And he went outside and wept bitterly
.] Quite obviously, Peter, among other things, dealt with guilt for quite some time after he denied his Lord and these things also probably more than crossed his mind: unworthiness, worthlessness, and hopelessness, feelings all who permit guilt to creep into there lives will encounter.
These are the points to consider: (1)
Peter's denial did not catch Jesus by surprise
. As we saw in the opening verse, Jesus told him beforehand that it would happen. In fact, Peter's restoration was part of Christ's plan for him even before he actually fell. (See Luke 22:31-32) (2)
Peter's denial did not change God's plan for his life
. Sometimes, people feel guilty for something that happened to a loved one because they were not there for them. The truth is that nothing we can ever do or not do will ever change God's perfect will or plan for our lives or anybody else's. (3)
God has never called anybody into His service who is without faults and weaknesses
. (4)
Jesus did not come into this world to condemn, accuse, or judge
. Why should we therefore allow someone to do that to us, even if it is we ourselves. Paul said this in his letter to the Corinthians: "
I care very little if I am judged by you or by any human court; indeed,
I do not even judge myself
."
(1 Cor. 4:3) Clearly, we don't even have the right to judge ourselves.
Someone who is reading this blog today has allowed someone or something to make them feel guilty. It just may be that you have dealt with it for quite some time now. The question is: Are you going to believe these condemning and accusing thoughts about yourself and do you think that those who let these troubling thoughts invade their hearts and minds live a joyful and fruitful life? On the other hand, if you believe what God says about His children, and you should, that we are more than conquerors, (Romans

8:37

) that we are a chosen generation, a royal priesthood, a holy nation, and a peculiar people, (1 Peter 2:9) then you will enjoy the benefits Christ offers. Apart from taking our sins upon Himself at Calvary, Jesus also bore our guilt. Don't let it ruin your life. It can only hurt you if you let it.
Memory Verse for the week: (John 15:9)
"As the Father has loved me, so have I loved you. Now remain in my love."