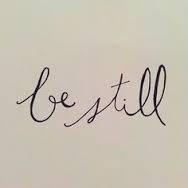 As I was having my quiet time with the Lord last night, these well known words to many bible readers kept invading my thoughts:
"Be Still and know that I am God."
Upon arising this morning, I made it a point to read Psalm 46 one more time, assured that it would be God's reminding message to me, as well as for you, my fellow believers, and a great way to start off our weekend.
It's first verse is really the best known and reads:
"God is our refuge and strength, an ever-present help in trouble."
Christ saved me and changed my life over forty years ago and I still have not forgotten the many years prior which were filled with fear, desperation, and uncertainty. Not any more! Now, whenever trouble of any kind comes calling, I start calling the Lord and my heart is immediately comforted in the knowledge that He is right there with me. Is that not a great benefit!? It is said that Martin Luther would sing this psalm anytime trouble would come his way. In fact, even those who are not too familiar with this psalm take great comfort just in knowing it's first verse. Because he knew that God was always with him, David quickly added in the next two verses that he would not fear even if the earth would be removed, the mountains shook, or the oceans roared. The trials we encounter sometimes appear to be as drastic so it is great to know that God is mightier than all our trials put together.
The space I allot myself for this blog does not permit me to go into more detail so I'll just jump to verse ten. Here is where God Himself is talking and tells us to be still and know that He is God. Depending on who you are and what your situation may be, it could mean one or several things. If you are troubled beyond measure, it is His way of telling you "Settle down, I am in control." If you are one who continuously contends with Him about your decisions and the direction of your life, one who is prone to do your "own thing" often, it is His way of telling you, "Surrender, you can't win." Finally, if during your nighttime prayers, you are prone to never stop telling Him all your troubles, presenting Him with one petition after another, it is His way of telling you, "Can you please be still for a few minutes and let me do some of the talking" Whatever your situation may be, these truths remain: He is God. He is in control, so you really have nothing to fear. Finally, He wants to have a closer and more intimate relationship with you, one where you converse with each other morning,

noon

, and night. When my children were very young, they would snitch on each other to us, and because they thought that "behave" was two words, they would often say that so and so was not "being have." With that great memory in mind, I'll end today's blog by asking you, "Are you being still?"
Memory verse for the week: (Proverbs 27:2)
"Let another man praise thee, and not thine own mouth; a stranger, and not thine own lips."