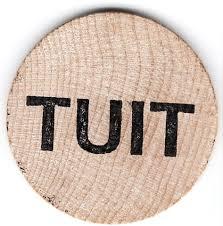 If you're wondering what today's blog title means, you are most likely less than 50 years old. Many years ago, someone came up with the idea of manufacturing and distributing a wooden or plastic coin about the size of a quarter with the word "TUIT" inscribed in the center. The idea for having some in your possession was that if someone you knew had the habit of using the lame excuse "I'll do this or that when I get around to it", you would hand them one of these coins and could tell them that they now had no excuses because they just got a round "tuit." With that goofy memory in mind, I chose today's title because of the tendency of many bible readers to isolate many particular verses, seldom realizing that there is "more tuit" than that. Here is one such verse: Jesus said, "The thief cometh not, but for to steal , and to kill , and to destroy : I am come that they might have life, and that they might have it more abundantly." (John 10:10 KJV)
This is one verse that has plenty of merit on it's own and all Christians know that Jesus came into this world so that His followers could have an abundant life. What many bible readers do not know, however, is what prompted these words of Jesus, who He was talking to when He said them, and what the conversation was about. Neither do many bible readers know what an "abundant" life really is, most people thinking it merely involves, wealth, fame, or prosperity in business. Before I try to explain what Jesus had in mind when He spoke of the abundant life God wants us to have, let me say that this declaration was prompted by His dispute with the religious leaders of His day. They were trying to deny His Person and authority, claiming that they were God's appointed teachers of the people and not Him. He bluntly told them that they, in essence, were thieves because they failed to love and properly attend to God's sheep, thus forfeiting their right to do so. They did not really care for them and even these not too bright animals knew enough not to follow them. Now, to the simple meaning of the abundant life God wants us to have.
I choose to believe that God's Spirit gave me this simple picture to illustrate it: Many years ago, a man planted an orange tree in the ground, perhaps even a seedling. Afterwards, he watered and cultivated it until it grew and started producing oranges. Now, many years later, that tree keeps on giving many oranges, one season after another. Can you see that the purpose of the one who planted it was fulfilled because his tree keeps on giving fruit many years after? It is the same with us. Whenever, I get the opportunity to conduct a baby dedication, my main prayer for the child is that God will bless it, keep it, and that in life he or she will be a blessing to others. The Lord has saved us, nurtured us, watches over us and blesses us. Now, He wants us to be fruitful so that others can get the benefit. If we do, then ours indeed will be an abundant life and it will be good for others as well as for us.
Memory verse for the week: (John 15:8 KJV) "Herein is my Father glorified, that ye bear much fruit; so shall ye be my disciples."