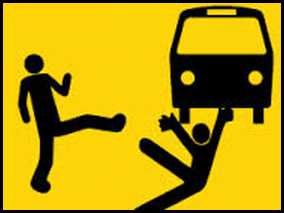 Since it is an overused cliché in today's society, I'm sure most of you know what the phrase "to throw someone under the bus" means. This is what Wikipedia says about it: [" To throw (someone) under the bus is an idiomatic phrase in American English meaning to sacrifice a friend or ally for selfish reasons. It is typically used to describe a self-defensive disavowal and severance of a previously-friendly relationship when the relation becomes controversial or unpopular."] This phrase became widely used about ten years ago, but the practice of it is as old as the Garden of Eden. After Eve, and then Adam, disobeyed God by eating fruit from the only forbidden tree in the Garden, God asked Adam:
"Have you eaten from the tree that I commanded you not to eat from?" Adam replied: "The woman you put here with me--she gave me some fruit from the tree, and I ate it."
(See Genesis 3:11-12) In this case, Adam threw Eve "under the bus." It was his way of telling God: "Don't blame me, it was Eve who started everything. In fact, you're the One who put her here."
Since we all have been blessed (or cursed) with the Adamic nature, it is very easy for us to justify or defend ourselves, often at the expense of others, even our loved ones. We are very good at "passing the buck", often even finding a way to even blame those who brought up a charge against us in the first place. For example: If caught speeding on the highway, we can tell the arresting officer that the speed limit should be much higher, that others were going faster than us, that our speedometer is faulty, or anything else that pops into our head but this is the bottom line: These are the rules, we violated them, case closed. It applied to Adam and it applies to us. Here's another scenario I was thinking about recently: Lets say that your spouse caused you to arrive late for church. If someone asks if everything is okay, the first tendency is to say you would have been on time had not your spouse caused you to be late. Maybe others won't really see them but your spouse just walked into church with tire marks all over his or her body. Just as Adam should have done, we need to remember that, good or bad, my spouse and I are in this together. Whether blame or praise, we'll receive it together.
Perhaps we can make this our prayer, even a resolution, for the coming year. Lets ask God to help us not to play this silly but devilish little game. In fact, lets make it one of our obligations. We all have them, but speaking of our obligations, let me remind you that even though we may choose to ignore them or pretend they're not there, they are not going to go away. Because of Christ, we are all members of the same family. And God's children will never throw any of their siblings under the bus.
Memory verse for the week: (Romans

14:21

)
"It is better not to eat meat or drink wine or to do anything else that will cause your brother to fall."