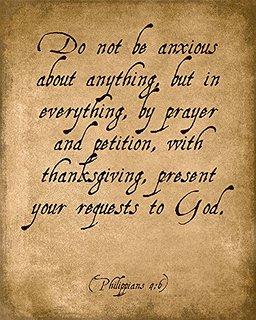 Tuesday, January 19, 2016
In yesterday's thought, I mentioned that prayer and meditation are an integral part of fasting; another is thankfulness. Paul wrote:
"Do not be anxious about anything, but in everything, by prayer and petition,
with thanksgiving
, present your requests to God."
(Philippians 4:6) In the 1st Chapter of Romans, Paul wrote that the wrath of God comes upon those, who among many other things, are unthankful. If God is greatly displeased with the ungrateful, it should be evident that thankful people, on the other hand, are pleasing to Him.
Speaking about thankfulness, this is what I wrote this past

Sunday

, in part, for our church bulletin: ["I know that Thanksgiving Day is past, but I was thinking this past

Friday

of the joy it brings my heart when I see people who have genuinely thankful spirits. Very often our lives are soured because some of us live among certain people who are always whining and complaining about something. Then our hearts are lifted when we come across those who are the opposite. I'm sure we all know those who are thankful although they have a hard time expressing it, but to me it is truly refreshing when grateful folks clearly demonstrate their gratitude and appreciation."] If people with thankful hearts please us, imagine how the Lord feels about them.
I trust you will keep that in mind and make thankfulness a part of your time of prayer and fasting. In fact, if you were to analyze the pattern of the best prayer, the Lord's Prayer, you would notice that it begins and ends with praise to God, with an apparent touch of thankfulness at the end for being the recipients of God's strength, faithfulness, and care for His children.
Memory verse for the week: (Joel

2:12

KJV)
"Therefore also now, saith the LORD, turn ye even to me with all yo