Thursday, February 04 2016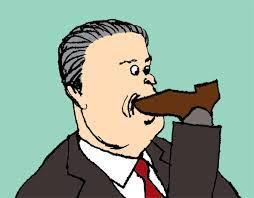 Thursday, February 4, 2016
When I was a boy, I'm pretty sure I had a bad case of ADHD but since the condition had not yet been identified at the time, the only treatment I got in those years came in the form of a belt or a paddle. The condition was not formally recognized till the late 1960's, and most ordinary parents did not hear about it till many years later, so I bet some of you who are reading this blog had the same experience as mine.
Today, it seems that just about anything that causes us or others trouble is a disease. One such condition which may or not really be an illness at all is known as Foot in Mouth Disease. The dictionary says it is "the habit of making inappropriate, insensitive, or imprudent remarks." By this definition, it seems to me that many folks we know have the real thing while the rest of us just have the symptoms or get a touch of it from time to time. Nevertheless, we all know the sick feeling that comes after we have put our foot in our mouth, right ? This disease is more prevalent than ever because of the explosion of the news and social media outlets. And since we're living in a time when many people want to make a statement about the many social issues facing us today, many them turn to these outlets to express their views or opinions, and because some of them do it passionately, they often say or write things that don't come out well and do more harm than good.
In the end, many of these folks intended to do something good, yet they were criticized and maligned for it, all because they did not choose their words more carefully. Paul wrote this advice in Romans

14:16

:
"Let not your good be evil spoken of."
Besides being a warning about speaking without thinking, it also includes things we do when serving the Lord and others. The next time we feel like taking a stand, expressing our opinion, or doing something to touch someone's life in a positive way, let's first ask God to give us the right words and help us to do things the right way.
Memory verse for the week (1 Peter

1:22

)
"Now that you have purified yourselves by obeying the truth so that you have sincere love for each other, love one another deeply, from the heart."