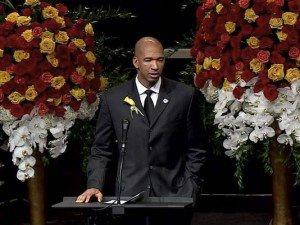 Friday, February 19, 2016
I was sent a video clip this morning of the eulogy given by Monty Williams at the funeral service for his wife who died in an auto accident a few days ago. Monty played for the Spurs at one time and now is an assistant coach in the NBA and his wife's funeral was attended by many players and coaches who obviously love them both. As I saw the clip I wondered if I could be as strong in my faith if and when I find myself in that situation. God's people sometimes fall apart at such times and instead of inspiring others, they bring them down with them.
I read once again recently the account in the 37th Chapter of Genesis where Isaac refused to be comforted by his children when they all thought that his son Joseph was dead. Verse 35 reads:
"All his sons and daughters came to comfort him,
but he refused to be comforted
. "No," he said, "I will continue to mourn until I join my son in the grave."
Ironically, I wrote about that issue in our church bulletin last Sunday. Here it is:
["At the start of his second letter to the Corinthians, Paul wrote:
Praise be to the God and Father of our Lord Jesus Christ, the Father of compassion and the God of all comfort, who comforts us in all our troubles,
so that we can comfort those in any trouble with the comfort we ourselves receive from God
.
(2 Cor. 1:3-4) By this, it is clear that if we want to comfort others who are in need of it, we ourselves need to be strong. I confess that there have been times, though momentarily, when I let a certain life crisis get the best of me. If I had continued to sulk, block myself from the world, and feel sorry for myself, I would not have been able to help anyone who needed a word of comfort or encouragement at that moment. How often do we hear in church and in other places that "Its all about Jesus?" Well, if it is, why do we continue to focus more attention on our needs that on those of others? If we truly trust God He will always give us the strength and the victory. Be strong! Others around you are going to need you."]
Memory verse for the week: (Psalm 27:1)
"The Lord is my light and my salvation— whom shall I fear? The LORD is the stronghold of my life— of whom shall I be afraid?"