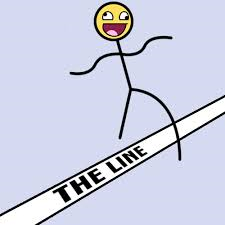 I suppose some Christians, especially the younger set, may think I'm overreacting a bit but I sincerely believe that the conduct of God's children should be on a much higher level than that of those who don't believe or follow Christ. I was motivated to write on this topic because of the way some of the present presidential candidates have chosen to conduct themselves, including their form of expression. The ones in question all profess to be Christians but their words and actions clearly deny the fact. In fact, a person claiming to be from a Christian university responded to one of the articles about one of the candidates using language definitely uncharacteristic of a genuine child of God.
I usually don't include more than two bible verses in my blogs but since I believe this is a very good model to follow, I hope you don't mind me sharing these 4 verses:
"Follow God's example, therefore, as dearly loved children and walk in the way of love, just as Christ loved us and gave himself up for us as a fragrant offering and sacrifice to God. But among you there must not be even a hint of sexual immorality, or of any kind of impurity, or of greed, because these are improper for God's holy people. Nor should there be obscenity, foolish talk or coarse joking, which are out of place, but rather thanksgiving."
(Ephesians 5:1-4)
I'm sure you all know by know that I like goofy stories and corny jokes and although I make an effort to keep them clean it just may be that not all of you may be happy about that. Nevertheless, there are some folks who think that funny jokes will be even funnier if you cross the decency line or that one's point will be a little bit stronger if the words used are vulgar or saltier. If you have seen the debates and some of the campaign speeches lately, you know there has been a lot of obscenity, foolish talk, and coarse joking lately. To borrow a phrase used by some old fashioned country folk, "There are some pretty slim pickins out there", at least it seems that way in regards to the present presidential candidates. Because God is merciful, maybe the winner will surprise many and turn out to be a pretty good president when all is said and done. Here are two things we must not forget, however: First, we must continue praying for our president and all who are in positions of leadership no matter who they are and secondly, we must never forget that the One who is in control and is ever watching over us is the Lord Himself. So there; things are not as bleak as they may appear. We can all still sleep well at night.
Memory verse for the week: (Colossians

3:12

)
"Therefore, as God's chosen people, holy and dearly loved, clothe yourselves with compassion, kindness, humility, gentleness and patience."