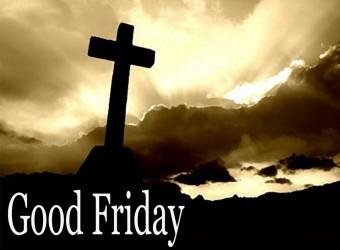 Nobody knows for sure when the term "Good Friday" originated. Here are two main theories: (#1) It started with the Gallican Church in Gaul, a region which once included parts of present day France and Germany. The term, "Gute Freitag" is Germanic in origin and means "Good" or "Holy" Friday. (#2) It is a variation of the original term "God's

Friday

" which was changed to "Good

Friday

" because the word "God" was deemed too holy to be spoken aloud. Historically speaking, the name "Good

Friday

" was adopted by the Roman Church around the 6th or 7th century.
To me, the focal point of Good

Friday

is the Cross of Christ, the principal event being Jesus' crucifixion. The message of the Cross is so important that Paul said in his letter to the Corinthians:
"And so it was with me, brothers and sisters. When I came to you, I did not come with eloquence or human wisdom as I proclaimed to you the testimony about God. For I resolved to know nothing while I was with you except Jesus Christ and him crucified."
(1 Cor. 2:1-2) An elegant Christian church had a guest speaker one

Sunday

morning who was much shorter than it's pastor. Because of it, the folks in the congregation were able to see a large drawing of Christ directly behind the pulpit during the sermon. A little girl sitting next to her father in the audience noticed it too and asked him: "Where's the man who usually stands there so we can't see Jesus?" Just as in Paul's day, many preachers and churches today get in the way of the central point of the gospel, teaching and expounding things that oftentimes have very little value or significance in our lives.
One question that also arises around this time of the year is: "Should Christians observe or celebrate Good

Friday

?" The truth is that nowhere in the Bible do we read we must observe it. On the other hand, neither does the Bible forbid it. It does, however, give us the freedom to make our own choice. Paul wrote:
"One man considers one day more sacred than another; another man considers every day alike.
Each one should be fully convinced in his own mind
."
(Romans 14:5) Whether you choose one or the other, nevertheless, please do not forget what Jesus did for you when He suffered and died on Calvary on your behalf. As for me and my house, we will choose to observe and celebrate it.
Memory verse for the week: (Psalm 16:8)
"I have set the Lord always before me: because He is at my right hand, I shall not be moved."