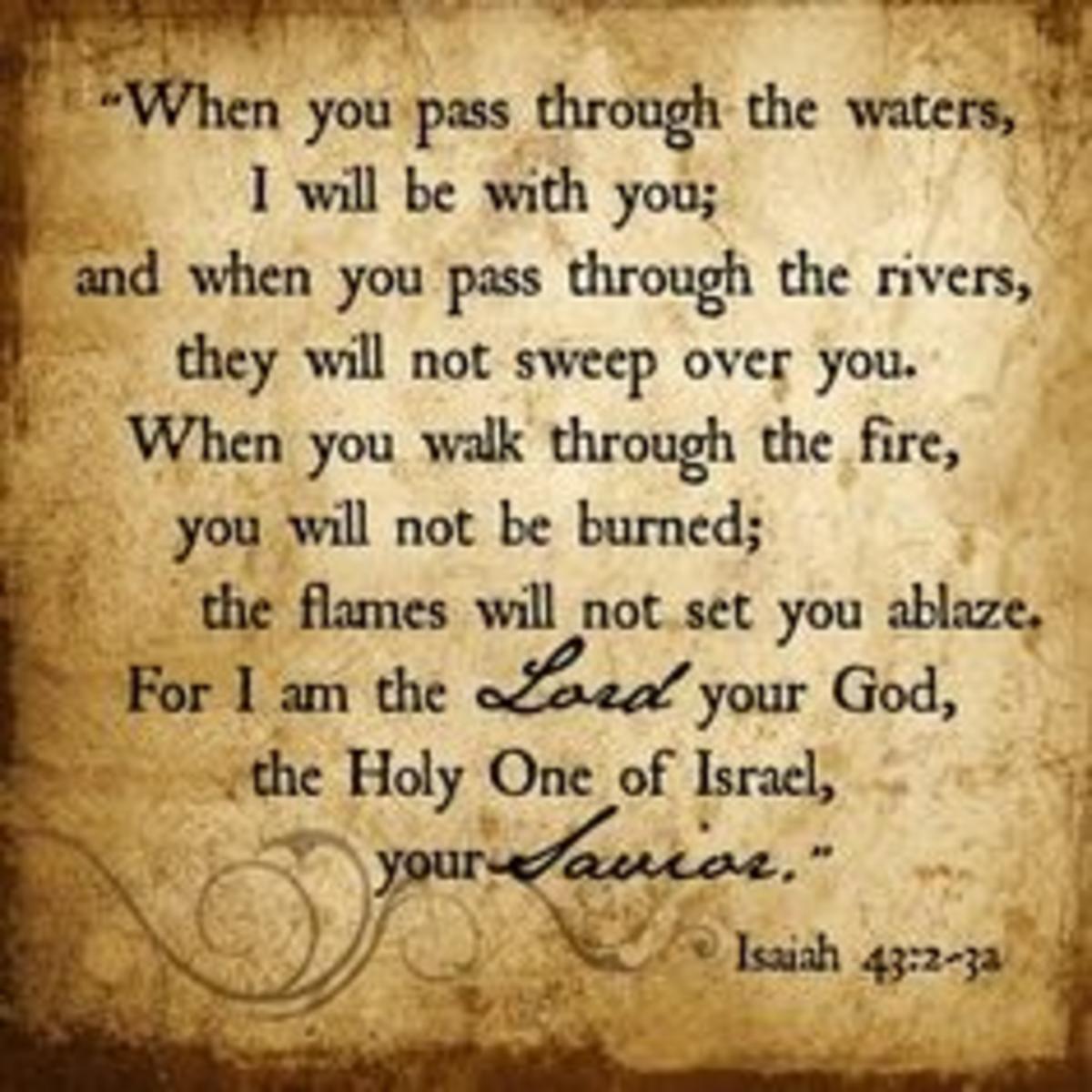 To finish off your week on a high note, I want to share with you today one of my favorite bible verses. Because it is a very comforting promise, it is a favorite of many of God's children everywhere as well. Here it is:
"When you pass through the waters, I will be with you; and when you pass through the rivers, they will not sweep over you. When you walk through the fire, you will not be burned; the flames will not set you ablaze."
(Isaiah 43:2)
It is very possible that one or more of you is going through such a rough stretch in your life right now, that it appears that it will drown you. It won't. I was reminded recently of this fact: sheep are not very good swimmers. That is why a good shepherd would never allow his flock near strong currents waters. If he did cross them through these types of rivers, he would carry them over himself. It is the same with you and me. As God's children, we know that when we go through hard trials, He is always with us, whether it seems like we're in the midst of a raging river or a huge fire.
When I was a boy, the bathroom at our house had an elevated screen window. Oftentimes, one of my older brothers would cut out the picture of a mean looking man an attach it to the corner of the screen. When we first went it and turned the light on, at first glance it appeared that this man was really there and ready to attack us. Of course, it was just a cutout. Life's difficult trials are like that. At first glance, they are very menacing and it may seem that they will be the end of us. They won't, because they are nothing more than a picture. The reality is that the Lord is always with us and we are safe in His arms. If you are going through a fire or storm right now, remember today's promise. You have nothing to fear or worry about.
Memory verse for the week: (Psalm 9:10 KJV)
"And they that know Thy name will put their trust in Thee; for Thou, Lord, hast not forsaken them that seek Thee."