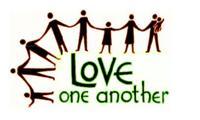 I'm sure most of us find it easy to say we love God, but how can we be sure that we really do? Is there a good way, beyond any doubt, to prove it? To me there is one simple indicator that shows we love God. Jesus told His Disciples in John

13:35

,

By this all men will know that you are my disciples, if you love one another.

Pretty simple, right? It was more than apparent that the Disciples loved their Master, but their love for one another would prove to them and the world, that they loved God as well. Reinforcing that truth, John, one of those Disciples, later wrote:

If anyone says, I love God, yet hates his brother, he is a liar. For anyone who does not love his brother, whom he has seen, cannot love God, whom he has not seen. (I John

4:20

) Now, those who are looking for an excuse to circumvent this obvious truth will say that this obligation applies only to siblings and perhaps also our Christian brethren. Not so. Jesus answered that position in His Sermon on the Mount when He said that one should not only love his neighbor, but his enemies as well. (See Mt. 5:43-44)
Throughout the years, many of us have heard people testify that when Christ came into their lives they began to love even those they had despised previously. I bet many of you who are reading this blog today have said the same. Back in the early 60's, Doris Day had a big hit song entitled "Everybody Loves A Lover." In it, she made this declaration: "And I love everybody, since I fell in love with you." Back then, I thought that line was a little bit corny. Now in Christ, I have come to understand that this can only be true if the One fallen in love with is Jesus. Once Christ comes into our lives, we can say, just like in the Mio TV commercial, "It changes everything."
If you feel you love Christ but there may be one or two people in the world you feel no love for, ask Him to help you. In the first place, carrying this sort of thing within will only rob you of the freedom and joy God wants to give you. Secondly, it may make you wonder if you really love Him in the first place, and I'm sure you don't want that. Love God.
Memory verse for the week: (1 Corinthians 13:1)
If I speak in the tongues of men and of angels, but have not love, I am only a resounding gong or a clanging cymbal.