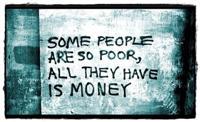 The biggest news story lately about the disclosure an NBA owner's private racist remarks that has caused a stir everywhere reminded me of the gospel account of a rich young ruler's encounter with Christ. The reason it did is because, generally speaking, rich people are quite different than ordinary people with equally different mindsets. In the case of the seemingly racist NBA owner, his exposed scandalous conversation appears to indicate that he believes certain people are superior to others, primarily the rich versus the poor, and that those under his employ are basically his property.
The rich young ruler who sought Jesus and asked him "What must I do to inherit eternal life?" also showed a similar mindset. Not only were his money and material possessions so precious to him that he was not willing to part with them, the very fact that he was a ruler indicates he was accustomed to being served and was not ready to start serving others. When he walked away, Jesus turned to His disciples and said:
How hard it is for the rich to enter the kingdom of God! It is easier for a camel to go through the eye of a needle than for someone who is rich to enter the kingdom of God.
(Mark

10:23

, 25) The Disciples were amazed that Jesus would make such a statement because in those days the popular belief was that being rich was an indication of God's favor. To many, it still is. Perhaps they also believed that way because the religious Pharisees were all rich and definitely acted as if they were superior to the common people. When I was in middle school, a certain teacher's portrayal of the historic account of the fall of the Alamo led me to believe that the defenders were people of a higher character than the Mexicans. Mind you that 99 % of the kids in our school were of Mexican descent so up until I graduated from high school, I had virtually no contact with people from other ethnic backgrounds and actually went out into the world believing that we were a lower class of people than others. It did not take me long to figure out that people are all the same. It is distressing to realize that even today, there are many who think they are superior to others, and not just the rich. Nevertheless, when Jesus declared that with God all things are possible, He meant He can change people's hearts and mindsets. Let's continue to pray for those who have not yet been enlightened, especially those who don't know Christ.
Memory verse for the week: (1 John 5:4)
for everyone born of God overcomes the world. This is the victory that has overcome the world, even our faith