Thursday, September 18 2014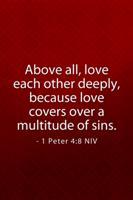 Thursday, September 18, 2014
Many of you know or have heard of this well known question Peter asked Christ one day: "
Lord, how oft shall my brother sin against me, and I forgive him? till seven times?"
The story is found in the 18th Chapter of Matthew. Jesus answered: "
I say not unto thee, Until seven times: but, Until seventy times seven."
There are many misconceptions concerning this bible rule. For example, many have taken Jesus' advice literally and believe that one has reached his limit after sinning against his brother 490 times. Even common sense and decency will quickly point out the absurdity of carrying around a notebook for the purpose of recording every offence a person has committed against us. If such a thing should be done at all, which it should not, it would be better to tally the times we offend others.
Another misconception regarding Christ's teaching is that it only applies to brothers (siblings) and not to others. No, this rule involves everyone. In fact, it begins at home. This is important because this is where most offences begin. Arguments and disagreements between spouses, family, friends, or loved ones are more common than most people want to admit. Unfortunately, many of these result in divorces, divided families, and shattered relationships. It shouldn't have to be that way. Besides Christ's teachings, the Bible admonishes all God's children to be loving, forgiving, patient, and tolerant. In the heat of many squabbles, these things are easy to forget. Since disputes and misunderstandings, especially in the home, are inevitable, it is important to set some reasonable guidelines to follow and apply should we find ourselves in the middle of one. The first and foremost thing is to lift up a prayer to God for help in the matter. He will probably bring to our mind the many, many times He has been patient, merciful, and forgiving with us, and how He has never given up on us. Then you must consider the person you're having the disagreement with. If it is someone you love deeply, reflect on the love you have for him or her. That thought alone should help you be more patient and understanding. What's more, the Bible gives us this great piece of advice in 1 Peter 4:8: "
Above all, love each other deeply, because love covers over a multitude of sins."
If an argument or disagreement has distanced you from someone you love deeply, please remember that the love of God is greater than all things. It is sad to say but too many people have given up on love way too soon. Those you truly love deserve better than that.
Memory verse for the week: (Philippians 3:8 NLT) "
Yes,
everything else is worthless when compared with the priceless gain of knowing Christ
Jesus my Lord. I have discarded everything else, counting it all as garbage, so that I may have Christ."