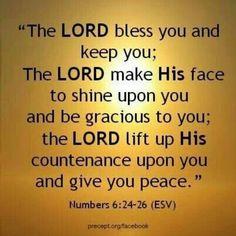 I don't know how prevalent it is today, but in the old days people used to call the prayer before a meal "the blessing." Well, this blog is not about that, but it is about a blessing. It is about a custom we have adopted in church that I feel fairly confident came from the Lord. Some time back, I was reading in the 6th Chapter of the book of Numbers and toward it's close I saw some words of instructions from God to Moses that seemed to stand out from the rest of the chapter. I took it as if the Lord was saying it to me. He was instructing Moses to tell Aaron and his sons (the priests) that whenever they blessed the people, they should use these words:
"The Lord bless you and keep you; the Lord make His face shine upon you and be gracious to you; the Lord turn His face toward you and give you peace."
(Num. 6:24-26)
So many churches have adopted customs and practices in their worship services they would be hard pressed to corroborate by the Word of God; I feel certain this is not one of them. Allow me to elaborate: To begin with, one of the duties of the priest was to bless God's people. Here, God was telling Moses with what words they were to do it, thus making it a God approved ordinance. How does that relate to you and me? Well, the Bible says that God's people are, among other things, a "royal
priesthood
" (See 1 Peter 2:9) and Paul implied the same when he advised us,
"By Him therefore let us offer the sacrifice of praise to God continually, that is, the fruit of our lips giving thanks to His name."
(Hebrews

13:15

) Offering up sacrifices to God was another priestly duty.
Thus, according to God's word, all Christians are spiritual priests, pastors even more so. Therefore, besides being one of our duties as priests, it is an honor and privilege to be able to bless others in His name. What is even more precious in my opinion is that the practice comes with a divine promise. God told Moses,
"And they (the priests) will put my name (bless) upon my children; and I myself will bless them."
(Num.

6:27

) From the first time I understood these words and took them personally, I felt a wave of excitement and joy knowing that this was much more than a casual "God bless you." I now knew, without any doubt, that whenever I or anyone of our pastors climbed to the pulpit to declare this blessing on God's children, they would definitely be blessed by Him. Next time you really want to bless someone, use the words in Numbers 6:24-26. I believe it would be a great practice to add to your lifestyle. On the other hand, should you hear someone pronouncing that blessing on you, consider yourself blessed!
Memory verse for the week: (Isaiah 59:1 KJV)
"Behold, the Lord's hand is not shortened, that it cannot save; neither His ear heavy, that it cannot hear."