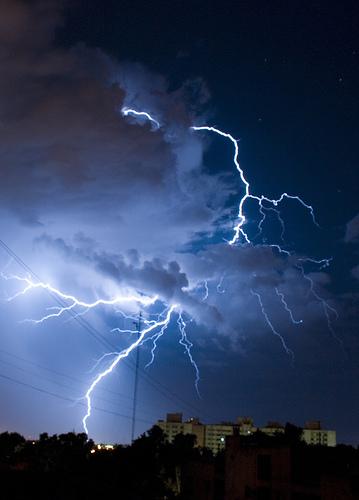 In the NIV version of the bible, Matthew 14:22-36 is titled "Jesus Walks On Water" but the part of the storm I would like to focus on today is the storm that the Disciples found themselves in on that day. The first noticeable facet of the story is found in verse 22 which reads: "
Immediately
Jesus made the disciples get into the boat
and go ahead of Him to the other side, while He dismissed the crowd."
(The KJV says He "constrained" them to get into the ship.) This should remind us that the storms in our lives are no accident and are merely another event the Lord has marked us for. Secondly, this storm, which also featured the apparition of a "ghost" terrified them. If we are honest, we too will admit that many of our storms have scared us half to death. Thirdly, when it seemed that the storm would be the end of them, Jesus came to them and immediately calmed them down by telling them,
"Take courage! It is I. Don't be afraid"
(verse 27)
Then we move on to the part of the story involving Peter's attempt to walk on water, just as Jesus did. When the Lord gave him the go ahead, he started out well but then verse 30 tells us: [
But when he saw the wind, he was afraid and, beginning to sink, cried out, "Lord, save me!"
] Of course, you all remember that the Lord did indeed save him. The part of the story I am focusing on ended with verse 32 which reads: "
And when they climbed into the boat, the wind died down."
Here are the comparisons and the application: (1) If you are going through a particular storm right now, keep in mind that the Lord knew you were going to be in it even before it happened. (2) Just like it did to the Disciples, your storm may be striking terror in your heart; you may even be thinking that it will be the end of you. (3) Again, just as it happened with the Disciples, Jesus is not very far away from you and will, in fact, come to remind you not to be afraid, that He is with you and everything will be alright. (4) As far as Peter is concerned, he tried to defy the raging sea by walking right over it, but when He took his eyes off of Jesus and focused on the storm, he immediately began to sink. A favorite pastor of mine made this comment: "You should be in your circumstance, not under it." You do the same; don't focus on your storm, focus on the One that is here to rescue you. Finally, as verse 32 should have shown us, no storm lasts forever. Neither will yours! Jesus said that the Truth will make us free, and since He is the Truth, and regardless of your storm, consider yourself free.
Memory verse for the week: (Luke

6:38

) "
Give, and it will be given to you. A good measure, pressed down, shaken together and running over, will be poured into your lap. For with the measure you use, it will be measured to you."