Thursday, September 10 2015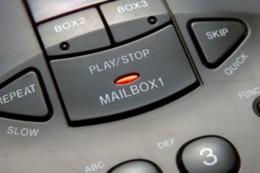 Thursday, September 10, 2015
I heard recently of a Texas pastor who kept a recorded telephone message from his dad who is now in Heaven. He listens to it every now and then just to hear his voice once again. By the way, his dad was a pastor too. Hearing that touched my heart because I also kept a telephone message from my older brother who died a few years ago. Unfortunately, that message was lost in the storm which knocked down our neighbor's tree which, in turn, severed our power and telephone lines and kept us out of our house for nearly three months. I too had kept it so that I could hear my brother's voice from time to time.
My brother was a real hero to me and not just because of what he endured in a German concentration camp during World War Two, but because of the type of man that he was. The message I had recorded came from his last place of residence, a local nursing home. To give you a glimpse of the type of person he was, here is what he basically said in that message: "Hello, this is Brother Ruben. I'm just calling to tell you and Mary Helen that I'm doing fine and I am in good hands. Don't worry about having to visit me. I know that you are a busy man and have many other obligations. I'll see you later." The truth is that I'm longing to hear his voice once again and, because of Christ, that wish will be fulfilled when I see him in Heaven.
Some of you who are reading today's blog also have a departed loved one's voice you are yearning to hear again, and if you are a child of God your dream will come true. As I was thinking about my brother's recorded message, it struck me that if your departed loved ones could call you from Heaven, their message would be very similar. They would tell you not to worry at all about them, that Heaven is beautiful and they are just as happy as they can be. Happiness and bliss will fill your soul on the day you hear their voice again and see them face to face. Even better, you will finally get to see the face and hear the voice of the One who loved you and gave His life for you, the One who made it possible for you to reach Heaven in the first place. What a glorious day that will be!
Memory verse for the week: (1 Corinthians 13:4)
"Love is patient, love is kind. It does not envy, it does not boast, it is not proud."